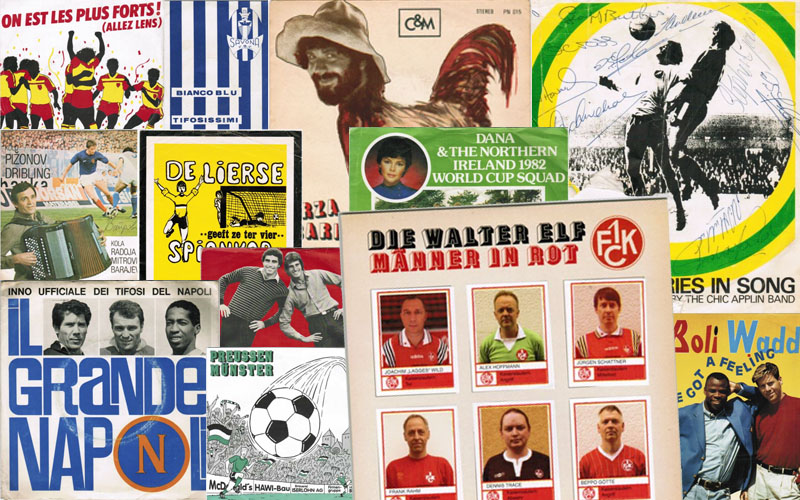 There are hours of enjoyment to be found in one enthusiast's collection of over 900 football records, from the bewildering array of musical styles to sleeve art so bad it's good
31 December ~ Since I was a child I loved both football and the 7" single. In the early 1990s my flatmate found a single about FC Zurich at a local flea market and bought it for me. Until then I had not known that there was such a genre. That's when I started to have a look myself. Now I have over 900 singles, available on my website 45football.com as mp3 files. Several of the covers have been collected together in a new book, Football Disco!.
I still go through used singles in flea markets and record shops but rarely find something new. Most record shops don't have a "sports" or "football" section, they wouldn't think anyone cares, which I find sad, though understandable. I buy a lot of records on the website Discogs and there are more than 600 football items on my wantlist. Apart from that I get vinyl-loving friends in various places including Milan, Bolton and Buenos Aires to keep their eyes open for me. And a few times a year I get mail from strangers who have seen my homepage and would like to send me a football 7" they own and have no use for.
A football record is more than music, it is the year it's made and the reason it came out as well as the sleeve and the enthusiasm behind the whole production. Even the most boring tune in celebration of an average club needed some kind of sleeve art, typography, a logo or anything else to catch the eye.
I like Italian graphic design from the 1960s and 1970s, two decades which were known for a stylish simplicity of colours and patterns. But I also love the very bad sleeve art, where it looks like people asked their not very talented neighbour to make a football drawing. And then I do appreciate sleeves with traces of previous owners: comments, dedications, addresses.
And there are some great football singles. A Chacarita Juniors is a simply beautiful, melodramatic tango from Buenos Aires, Männer in Rot is a really catchy punk song about Kaiserslautern, and I also like El Atlante about the Mexican club of the same name and the Norwich City Calypso. Then there are songs that are so bad that there is something great about their awkwardness. This would include Das ist FCK about FC Kreuzlingen from Switerland's fifth tier or Forza Neri about US Casale from Italy. And some singles I just love because it's so hard to find football records from their region, such as Spartak Moscow, and the ones about Diables Noirs from the Republic of Congo, and Club Afrique from Tunisia.
Sometimes I have found out more about the people who made the record through their families getting in contact. The son of the author of a single about FBC Savona, a lower-division club from Italy, sent me the memoirs of his father who had been a well-known saxophone player in Liguria and was in Nazi captivity during the Second World War. You listen to a song very differently when you find out such things about the people who wrote it. Then there was the son of the author of a song about Lyon who just wanted to tell me that their tune was played on a French radio station lately. Another nice story comes from Saint-Étienne, where a woman asked me to send her the instrumental B-side of Allez les Verts because she and her sisters had adapted the lyrics for their father, a huge supporter of the club, and wanted to sing a karaoke version of the song for his 70th birthday.
Certain countries seem to produce a lot of football records. That there are a huge number from Italy is partly down to a football song festival in 1964 where famous singers took part. The same thing in the Netherlands in the 1970s, where Ajax's Total Football inspired 40 or so singles alone. Sadly, my native Switzerland has produced few records, because local football just wasn't good or popular enough in the heyday of vinyl.
I cannot hope to acquire every football record, but if I ever find Canarino va by Equipe 84 about Modena FC or Atlético Junior about the club from Barranquilla in Colombia, I'd be pretty happy. From the UK, the record I would most like to find is This is Our Ground 2015 by FC United of Manchester, while others include I love George Best by The Devoted, Happy Cos I'm Blue by Birmingham City's midfield hardman Trevor Hockey and We Play for Scarborough by, you guessed it, Scarborough FC. Pascal Claude
All sleeve images courtesy of 45football.com
Football Disco! is on sale now
This article first appeared in WSC 394, January 2020. Subscribers get free access to the complete WSC digital archive – you can find out more here