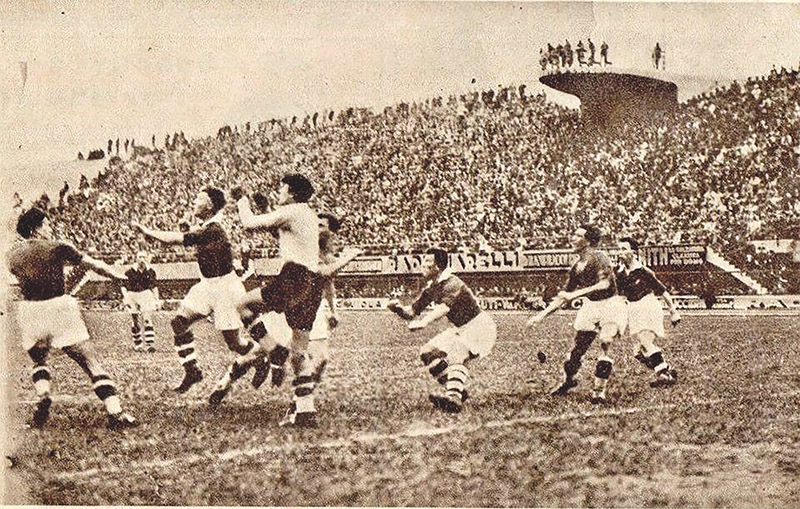 Peter Percival was an unassuming man who rarely spoke of his playing days at Man City in the 1930s, but family research has revealed his starring role in a significant match
8 April ~ Sitting in the side stand as Ashton United lost 6-0 at home to Stockport County last December, I thought about my great-grandfather. Until a change of name in 1947, the club were known as Hurst FC, and it was at their Hurst Cross Stadium where my great-grandad started and finished his career.
Peter Percival was born on February 23, 1911 in Reddish, Stockport to an ordinary working-class family, but a natural athleticism and talent for sport led him to a career in football that took him to unimaginable places. Making his debut for Hurst in the Cheshire Counties League on March 22, 1930, he would go on to play for Buxton and Ashton National – scoring seven goals in 13 matches for the latter – before receiving his big break at the age of 20, signing for Manchester City.
A newspaper cutting from the time reveals that this "promising inside right" had been watched by four other League clubs before being snapped up by City in the 1931 campaign. The young Percival was largely a second-string player during his time at the club, scoring 21 goals in a total of 112 reserve-team appearances. It wasn't until February 1934 that he made his first-team debut for City, against Leeds United, standing in for the injured Ernie Toseland. City had built a talented side that included players such as goalkeeper Frank Swift, Matt Busby and Eric Brook, who held the all-time goalscoring record for the club until it was recently broken by Sergio Agüero.
A modest and humble man, Peter didn't talk about his football career, and the information we do have has been pieced together like a jigsaw, through careful research, a few treasured photographs and the odd memento. One of those pictures reveals Peter training on the beach at Southport with those famous names before the 1934 FA Cup final. At Wembley Stadium, a brace from Fred Tilson secured a 2-1 victory over Portsmouth on April 28, but Toseland's recovery meant that Peter would have to be content with a reserve role in that famous win.
Yet his time, a moment that continues to shape the present day, was yet to come. Travel agency Thomas Cook arranged a post-season tour of Europe for City after the Cup final, starting at Racing Club de France in Paris on May 10 and making a stop in Italy at Fiorentina three days later.
To put that match in context, Fiorentina had been founded just eight years earlier, and this was a chance for Benito Mussolini to showcase the newly built Stadio Berta (now named Stadio Artemio Franchi) to a famous English side ahead of the World Cup which would kick off in Italy at the end of that month. Indeed, the entirety of the Azzurri squad looked on from the stands as Peter was named in the starting XI that day, as first-teamers Brook and Tilson had departed for England friendlies in Hungary and Czechoslovakia. Peter scored a goal just before half time in a 3-3 draw. It's surreal to think the men who were about to win the World Cup were watching him score, and that both my family and I now regularly frequent that same stadium, as I am a full-time writer on Italian football and a Fiorentina fan.
Notwithstanding his moment of personal glory, letters reveal a homesick Peter would've been glad to return, and he would sign for Sheffield Wednesday for the following season. My Nanna was born in a house owned by the club. A one-year spell at Wednesday was followed by a move to Chester City, yet Peter's brushes with stardom were not over. His career ended where it started – at Hurst FC – where in 1939 he played alongside Dixie Dean in the Everton legend's final two matches of his career.
Local reports suggest that Dean's presence understandably increased the gate, his first appearance seeing 5,600 at Hurst Cross. His second match was his last as the outbreak of war interrupted the campaign. Unlike in modern times, those special moments for my great-grandad unfortunately did not mean that he could retire on his career earnings. His subsequent work as a bricklayer may well have been more in keeping with his upbringing than the grand surroundings of Florence, but the resulting emphysema brought about his untimely death at the age of 48.
His story should not end on a sad note, though. I'm convinced that if Peter could have seen his whole family in the stand at what used to be Hurst FC last December, he would have been immensely proud. Chloe Beresford
Photo courtesy of Paul Ward
This article first appeared in WSC 386, May 2019. Subscribers get free access to the complete WSC digital archive – you can find out more here