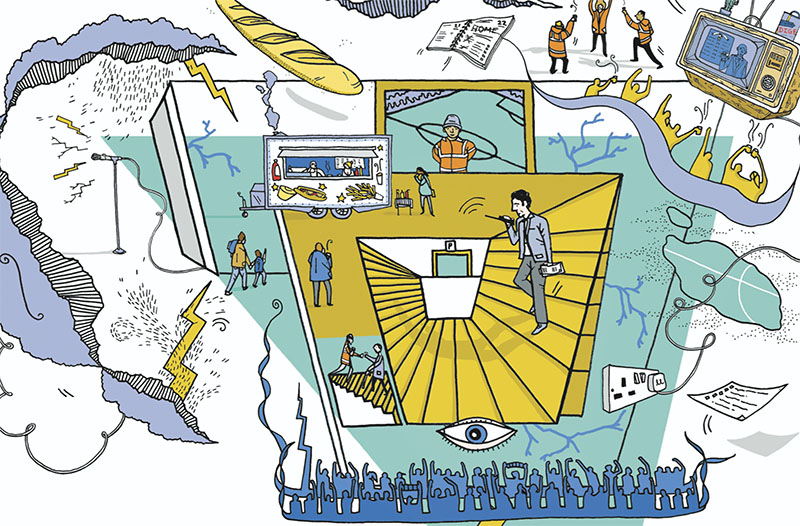 Club employees spend most of their time at the stadium, yet their minds are far too occupied with weather patterns and hot dog stock levels to worry about what happens on the pitch
12 November ~ Last season was the first in a decade where my life has not been dictated by the fixture list. This isn't because I've fallen out of love with the game. Quite the opposite – I've enjoyed watching more football than I have for some time. Before a recent change of career I worked for two Premier League clubs, most recently as venue manager.
Being a full-time employee of a professional football club normally means making yourself available for every single home game, every year. There's no prospect of a mid-season holiday booking or a day off to attend a relative's wedding. And don't forget the pre-season friendlies, reserve and youth games, and those charity games held after the season when most people just want to sit in the garden. You can't just slink off when the team cease to have anything to play for or break up at the end of their season. The stadium could still be in use for concerts, schools' finals and various sponsors who are entitled to play on the pitch. And by the time that's all done, next season's fixtures will be out and that's your life sorted for another year.
You look ahead to weekends off and when you might fit in a break or get to a game as a voyeur. But then along come the cups. The League Cup is fairly benign with its midweek fixtures – unless of course you draw a local rival or a lower-league team who will bring half the town along for their big night out. Even so an evening match would usually mean leaving home early with little prospect of returning the same day. But the FA Cup could be cruel. The delirium I once witnessed in the staff room following a fourth round away draw, and the prospect of a weekend off, was every bit as genuine as scenes from a minnow's clubhouse when they draw one of the big boys.
Following a change in direction, however, I have had the freedom to choose my weekly football fix as the mood takes me. To go where I felt like or to change my mind if the weather turned ugly. Despite both clubs that I worked for having good pitches with undersoil heating you'd be amazed at how much effort goes into monitoring the weather forecasts ahead of each game. Will the snow plough and gritters be on standby? Will the sponsors' marquee offering virtual photographs with the players need to be pulled due to high winds?
And it's not just the weather forecast that I can relax about. I had become conditioned to keeping an eye on what was happening off the pitch even at other stadiums. When I watched my own team scoring a goal, instead of jumping around, I scanned the crowd to check that no one had released a smoke bomb or tried to climb onto the pitch. I queued up for a cup of coffee at half time worrying about whether the target wait time would be exceeded and thinking that if those hot dogs were all they had left then they were in trouble.
In the past, a news flash of a terrorist incident would send a chill down my spine because of the need to review carefully laid plans ahead of an imminent game. Did we need to ask supporters to arrive earlier so they could be searched on entry? I was always conscious that we were meddling with thousands of long-established pre-match routines. I'll never forget one supporter who was dismayed that we wouldn't let him in with a large bread knife. I had no answer when he asked me "How on earth I am supposed to cut my baguette?"
Often the biggest challenges were posed by the unexpected. An under-23 fixture caused real chaos when a free-for-all ticketing policy brought out a crowd far greater than anticipated with many turning up well after the game had started. This led to frantic attempts to open additional turnstiles and convince staff that their usual shift needed extending. The half-time kiosk operation required an effort of almost military precision with every available pie identified and rationed.
But now I'm actually focusing on the match itself. Instead of willing the game clock to tick down without major incident off the field so that everyone can go home safely, I've been watching it nervously in the hope that my team don't concede a sucker equaliser.
Visiting non-League stadiums I've been meaning to go to for years has been an absolute joy. The most notable weather-related incident involved me hugging a club official who opened the club shop at half time so I could buy the headwear needed to survive the arctic blasts. My biggest security worry was when I won a crate of beer in a raffle and had to carry it across an estate while ignoring envious glances cast in my direction.
So next time you enjoy your 90 minutes of escapism, spare a thought for those who have worked behind the scenes to put the game on. Especially those who give up their time voluntarily to make the non-League game available to football idlers everywhere. Harvey Smith
Illustration by Adam Doughty
This article first appeared in WSC 380, November 2018. Subscribers get free access to the complete WSC digital archive – you can find out more here