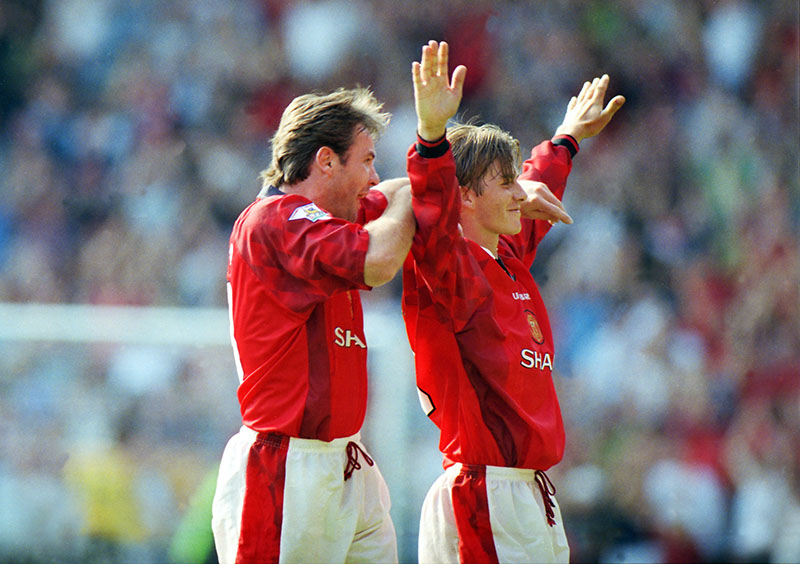 Despite it boiling down to lumping a ball forwards 60 yards, the appeal of goals from a long way out to both fans and pundits seems to be endless
1 October ~ It took exactly 2.8 seconds for David Beckham to become a household name. The time between the ball leaving his right boot, arcing 55 yards over a furiously back-pedalling Neil Sullivan, and nestling comfortably in the back of the Wimbledon net. Scoring from the halfway line had seemed possible up until that moment but still tantalisingly out of reach. Pelé famously came close in 1970, Chris Waddle nearly managed it at Italia 90 (but the offside flag was up anyway) and when Manchester City's John Bailey did it in 1982 he quickly admitted the whole thing had been a fluke.
Beckham's emphatic statement on the opening day of the 1996-97 season is probably the most iconic goal of the Premier League era, an anything-is-possible-now symbol of the game shifting through the gears on its way to becoming today's multi-billion pound box office industry. But it's also the ultimate example of how (and probably why) ultra-long-distance goals have become curiously over-rated. In 2002, Beckham's effort was voted the best goal of the first ten years of the Premier League and, in a reminder of just how frenzied Beckham-mania was at its peak, the 18th greatest sporting moment of all time by Channel 4. It's certainly a great goal but is it technically better than Tony Yeboah's crossbar-endangering howitzer for Leeds? Dennis Bergkamp's mesmerising hip-swivel, feint and finish at Newcastle? Superior to everything from the glittering Matt Le Tissier canon?
When a goal is judged by public vote there's always a nagging sense that Manchester United's support can skew the results (Wayne Rooney's overhead kick in the Manchester derby won best goal of the first 20 years of the Premier League in 2012) but even when the vote is closed the outcome is often the same. In April, guests at the EFL's end of season awards were asked to vote for their goal of 2017. You couldn't have wished for a better cross section of football insiders to act as an expert jury. And still they voted for Luton's Olly Lee punting the ball 60 yards over hapless Cambridge stopper David Forde.
The sheer popularity of these goals, then, is undeniable. But as with all puzzlingly successful modern phenomena, from the broadcasting career of Jake Humphrey to the Stereophonics selling out Wembley, it's incumbent on us to probe deeper in the hope of gaining some sort of insight into our fractured society.
There's something appealingly transgressive about a goal from the halfway line – the idea that they are simply not supposed to happen, combined with the cruel joy of watching a goalkeeper desperately trying to prevent their impending humiliation. Accompanying this is a feeling that even attempting a shot from so far out is enough to place it on a higher plain. Having the confidence and ambition to try to beat a goalkeeper from inside your own half is laudable. But so is writing a ballet about UKIP and neither should be immune from critical judgement.
Ranking goals is always a subjective process but there's a definite whiff of emperor's new clothes about the long-range punt. That when placed alongside the greatest swerving volleys, delicate chips and flowing team goals, it's just someone kicking a ball quite a long way, quite accurately. And isn't that something that most professional footballers should be able to do? In fact, most of us can have a go at it, which is exactly why kicking a ball into the goal from the centre circle is the half-time entertainment at a lot of clubs, as opposed to making punters recreate a bicycle kick from 25 yards (although, thinking about it, that would be pretty entertaining).
Football often conflates the biggest with the best and there's a sense that the sheer scale of these goals steamrollers all other considerations. It's the longest novel automatically being awarded the Booker Prize; Great Danes winning Crufts every year; Torvill and Dean missing out on Olympic gold because the Russian skater brings the house down by launching his partner 30 feet into the crowd.
Thank goodness for David Batty. In a rarely remembered footnote to Beckham's goal, Wimbledon travelled to St James' Park the following Wednesday. In the third minute, Sullivan raced out of his goal to make a clearance and, in one of football's most chilling examples of déjà vu, the Newcastle midfielder calmly fired the bouncing ball 40 yards back over his head. With hindsight, it's clear this was Batty's way of warning us that Beckham's strike wasn't quite as special as everyone thought. If only we'd taken the hint. Tom Lines
Photo by Colorsport: David Beckham celebrates his long-range goal against Wimbledon in 1996
This article first appeared in WSC 379, October 2018. Subscribers get free access to the complete WSC digital archive – you can find out more here