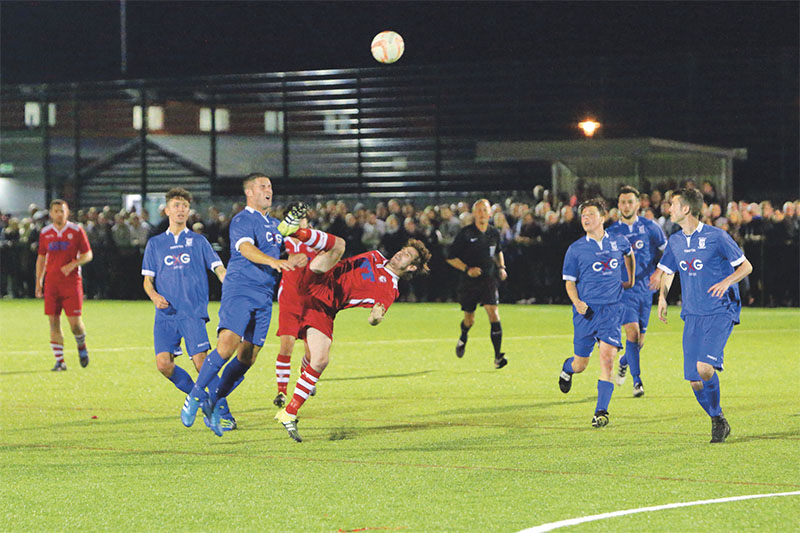 Non-League clubs are increasingly reaping the benefits of switching fixtures to Friday evenings, with bumper crowds and big match atmospheres
29 October ~ The much-heralded launch of Friday Night Football in Sky Sports' Premier League schedule two years ago appears to have been for the most part quietly cast aside. Of the ten slots available each season, just five were taken up in 2016-17 and six in 2017-18, amid suggestions of poor ratings and the difficulty of fitting such games in around other competitions. This season, only two Friday games will have been played by the end of November.
In non-League, however, Friday night matches are increasingly becoming an attractive choice. In 2015-16 the Eastern Counties League (ECL), home to clubs from Norfolk, Suffolk, Essex and eastern areas of Cambridgeshire, Hertfordshire and London, commenced what they called an "experiment", with 42 matches that season played on Fridays across the league's step five and six divisions. Attendances increased by an average of more than 40 per cent against the rest of the programme that season, and continued success in subsequent years indicates the novelty is yet to wear off.
Felixstowe & Walton United set a new attendance record of 623 on a Friday night in 2017-18, a campaign in which their home average for league games on a Saturday at 3pm was 360, while some ECL clubs have extended the league's experiment to cup games; another club record gate was set when 654 watched near neighbours Haverhill Borough and Haverhill Rovers meet in the second qualifying round of the 2016-17 FA Vase.
Across the country, the North West Counties Football League (NWCFL) has also embraced the idea. The league has simplified the process through which the date of a game can be changed, giving clubs the freedom to negotiate what have often become reciprocal Friday night arrangements with the opposition and putting an end to what was, according to NWCFL development officer Gary Langley, "a misconception that Saturday 3pm kick-offs are sacred and have to be stuck to". Acknowledging the challenges of a large catchment area that encompasses Lancashire, Greater Manchester and Merseyside, their hope is that such schedule variations might encourage fans of the region's professional teams to couple their regular attendance with a trip to their more "local" side in the same weekend, and to subsequently consider them as a destination for future free Saturdays, or even as a volunteering opportunity.
With the ability to position themselves as a more "authentic" alternative, some NWCFL clubs have extended their range of concessionary discounts to include Premier League and Football League season ticket holders. As in East Anglia, the average attendance increase for Friday night matches in the NWCFL has been in the region of 40 per cent.
Local circumstances and canny marketing, turning a game into an event, can see the advantages of Friday football amplified beyond the turnstiles. While step five Squires Gate's effort saw a comparatively modest attendance increase of around a quarter, their takings over the bar doubled. "People were starting their Blackpool Friday night out at the football, taking advantage of non-inflated drinks prices and going off from there," notes Langley.
Often it is the more local fixtures that are switched, reducing the demands of travel for players and fans on a working day but also encouraging strong away support and a big match atmosphere. Both NWCFL fixtures between West Didsbury & Chorlton and Irlam, seven miles apart, took place on Friday evenings last season, as did the Isthmian League derbies between Witham Town and Heybridge Swifts, which drew crowds of 407 and 239 respectively and have already been similarly scheduled for this season.
The idea appears to be gaining traction higher up the pyramid, with York City manager Martin Gray recently quoted in the York Press regarding his hopes for Friday fixtures at the club's new stadium, set to open in 2019-20. "It's just a different atmosphere and seems better… you'd have everybody coming in looking forward to the weekend and I think it would be brilliant. We'd probably also get a lot of floating fans, maybe 200 or 300, who might watch their football somewhere else on a Saturday."
Of course "floating fans" should not be any club's priority, and evening games can be prohibitive to the attendance of many, not least children. Saturday at 3pm unequivocally remains the optimal slot for football. But the turnstile clicks suggest that the occasional schedule shake-up could be an advantageous tactic in that complex art of encouraging people over the non-League threshold. Ffion Thomas
Photo by Paul Tebbutt: The record-breaking Haverhill derby
This article first appeared in WSC 379, October 2018. Subscribers get free access to the complete WSC digital archive – you can find out more here