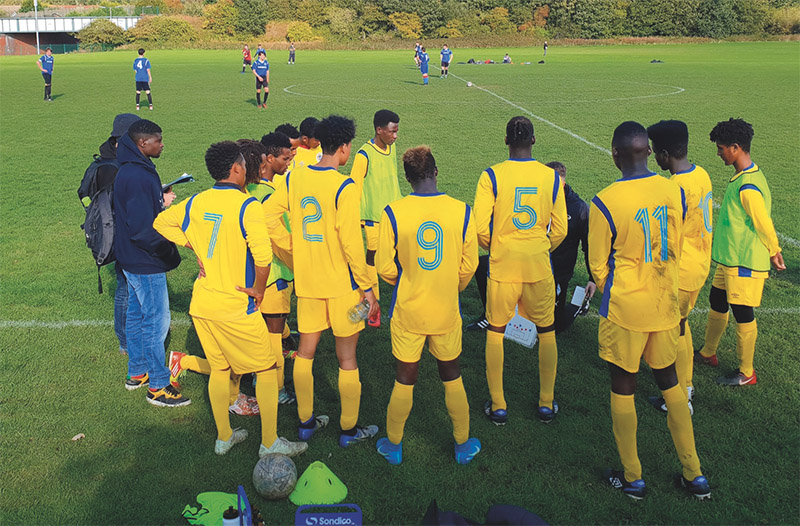 Founded in 2018, Ullet Road Church Rebels FC are about more than winning games – they provide players with a valuable support network, as well as moments of escapism on the pitch
1 April ~ I had heard about asylum seekers and refugees but did not properly understand their lives until starting a football project at an organisation called Asylum Link Merseyside. This began with me taking asylum seekers and refugees to watch AFC Liverpool in the North West Counties League. As we got to know each other, I realised my new friends would love their own football club. A church was involved in the founding of this new club – Ullet Road Church Rebels FC – in January 2018, with the help of Reverend Philip Waldron, a Unitarian minister. We started training on a local park in July and AFC Liverpool Reserves gave us our first ever match in August. Lots of AFC officials and fans came to support us that day as they have throughout the season.
Our league campaign began on September 1 in the I Zingari League (a recently revived competition that carries the name of an amateur league formed in the 19th century). We have 29 players registered, some of whom are highly talented, but it has been a tough season. We have faced some aggressive opponents that have intimidated us into defeat. In other matches, the physicality of grassroots football got the better of us. But the team's coaches have adapted our game and we are beginning to progress.
Yet we are more than a football club trying to win matches. We are a community whose members are becoming integrated into each others' lives. Being club secretary and kit man has given me an understanding of refugee lives that no book can adequately convey. Our centre-forward, Maher, was imprisoned in Sudan at 14 years old for being in the wrong place at the wrong time. He's not an isolated case. Some Eritrean players were conscripted into the army aged 12 and forced to kill. Then there are players, such as Mohamed, who have been on the receiving end of war and violence. They have witnessed family members slaughtered.
It is striking how many Rebel players fled their countries as "unaccompanied children". But their journeys are also full of hope. Having narrowly escaped an ocean death, a Belgian family found our 16-year-old centre-back, Hassan, sleeping rough in a Brussels park. He stayed with them for a while and ended up playing in the Anderlecht youth set-up. Having clung to the underneath of a lorry (which ripped his back to shreds) for eight hours to reach the UK, Hassan is now safely with the Rebels.
As if fleeing home in desperation is not enough, our players have been welcomed to the UK by Theresa May's "hostile environment" which often means a life of isolation in a grotty hostel. If our players win their right to remain, they are given 28 days to make arrangements before being kicked out of their accommodation. Our erstwhile Tibetan goalkeeper, Tsering, is in this position now. He cannot obtain Universal Credit without a bank account, which he can't get because he has no address. And he has no address because he has been evicted and, as a single man, does not qualify as homeless. It's a trap. No wonder Refugee Council research found that many new refugees join the growing street homeless population.
Trapped between a traumatic past that haunts them and an uncertain future that scares them, playing for the Rebels is, in Mohamed's words, "like a peaceful place, like we come from war, pressure, but it's OK when I can play. We still have scarred memories. We are thinking about what happened in the past when we are alone. But when we have matches, we forget all these things so it makes a big difference. I still have thoughts and depression. We keep thinking, what we saw. It's not easy to forget. Football makes you forget what happens."
Tsering and I are now friends so we are taking on the welfare system together. A church member has offered to put him up if we don't succeed. Racism has been an issue in our league this season and the Rebels will soon be going into schools in order to address that head-on. We have also made friends with ultras at clubs such as Whitehawk who have invited us to participate in a "one world" event this summer. Being Rebels has changed us all for the better. Chris Allen
Photo by Chris Allen
This article first appeared in WSC 385, April 2019. Subscribers get free access to the complete WSC digital archive – you can find out more here