The cliched "real" fan in the stands used by marketers to sell the game do not really exist – there are as many types of fan as there are fans
31 August ~ Sometimes when I watch football I'm very quiet, through boredom, indifference, studied concentration or – in an unfamiliar ground – because of shyness or even fear. Sometimes I'm excessively loud because I'm genuinely thrilled, moved, overjoyed, irrationally annoyed, or just in the mood for shouting out loud. All of which makes me wonder whom the broadcast media in particular are talking about when they constantly refer to "the fans". The mass of support that supposedly thinks and acts as one. A handy demographic to be pigeon-holed and sold on Product Football.
Fever Pitch was a good enough work, but it was only one fan's experience. One of the book's consequences (not Nick Hornby's fault) was the media's abandonment of its previous fan stereotype, the drunken hooligan. This was not in itself a bad thing, but the apparent hooligan was then replaced by the apparent fanatic – the obsessive, the "real" fan.
Now, we were told, the only true and proper fans were season ticket holders who cared about their team to the exclusion of all else. This fan lived only for something called "footie", and apparently had no life outside of the game. We were emotionally inadequate misfits to be pitied and patronised, yet at the same time moulded and manipulated into becoming the Sky era's "passionate" customer core.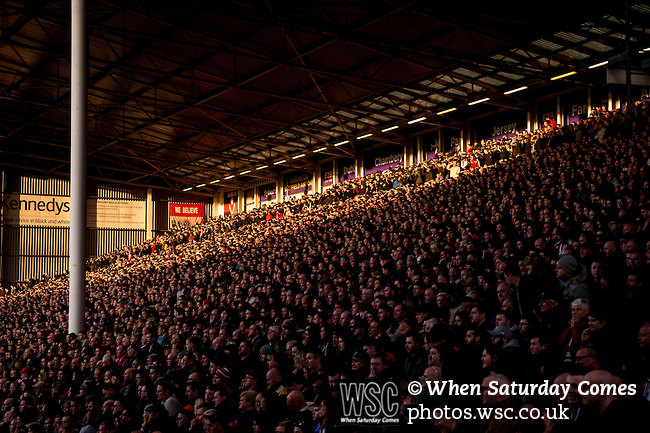 I dislike being told when I have to be passionate. I dislike being told that I would do anything for my team. No I wouldn't, and neither would most of the fans I've ever met. We don't always get angry when our team loses, we don't always look for a scapegoat – a player, the manager, referee or chairman. That's just Johnny Fury who phones up the local radio station after every loss to vent, or who spewed out a tweet without engaging his brain. These fans don't speak for me, but they speak loudly enough for the media to exploit them and generate clicks and listeners through manufactured controversy. (Why get mad at your hobby when its overwhelming characteristic is chronic imperfection?)
There are as many types of fan as there are fans. Some of us have more than one team, and it's not a crime. Some have no team at all, they just follow the game. Some make huge banners and choreograph chants, and I bask in the sounds and sights of their effort. Some have phases of fanaticism, followed by complete withdrawal. The time, effort, cost and emotional investment of travelling to two dozen away games a year may not be within everybody's reach, or on their list of desires.
Some are armchair fans, plastic fans, casual fans, corporate fans – they're all watching, to some extent, and they should all be spared our tedious judgment. Some agitate and take over their debt-crippled clubs or rebuild them from scratch, and for that they deserve our boundless support and admiration.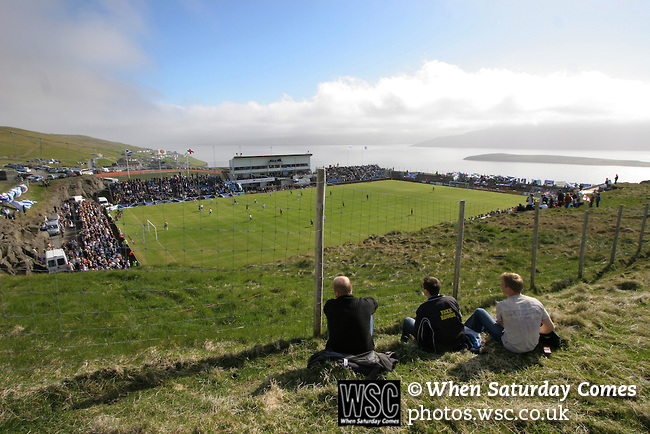 Look for an opinion about any player, team, manager or tournament and there will be 20,000 fans and just as many points of view. A mixture of considered wisdom, subjective flam, well-informed fact and speculative bollocks. And should you ask 500,000 fans what football means to them, you may be lucky enough to receive half a million different answers.
So, simplistic marketing goons, please shut up with your gurgling pre-match pitch about the "world's most passionate fans", and your hyperbolic assumptions about what it means to be a supporter. You're clueless because you're selling the game, not watching it. It's not a single highlight reel of colours, noise and tax-dodging billionaires dribbling round five men in La Liga to an ecstatic capacity crowd whose team always wins anyway. Spare us your glory-oriented, mono-focused presentation of football as nothing but theatre, thrills and slo-mo shots of the ball knocking the sweat off the back of the net as face-painted, merch-laden fans jump out of their seats for the fifth time.
Football is a fortuitous but wonderful gift that most of us are lucky enough to enjoy as a constant background when life is roughly normal, when we're not at war, when we're not stranded on the beach at Dunkirk, when buildings and people are not being bombed or blown up. It covers all human states and emotions, not just commerce and anger. It's our game, everybody's game. "The fans" still own it. And we should own the way we watch it. Ian Plenderleith
Ian Plenderleith's book The Quiet Fan is accepting pledges at the crowd-funding publisher Unbound. If you would like to see it published, please consider ordering an e-book or a limited edition hardback copy here
Top photo by Simon Gill/WSC Photos: The TV cameras focus on a beach ball at Brantford v Everton, 2010
Second photo by Simon Gill/WSC Photos: Sheffield United's Kop, full and bathed in sunshine, 2017
Third photo by Colin McPherson/WSC Photos: Three Faroese fans watch their team against Scotland in 2007