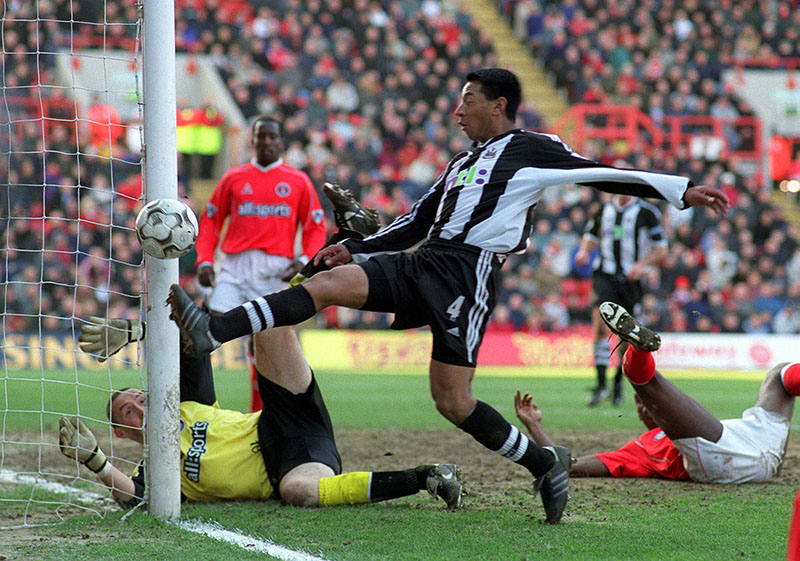 A mainstay of the Magpies' early 2000s top-four side, the South American remained a familiar face on and off the pitch in the north-east long after leaving St James' Park
5 June ~ Several South American players have made an impact at Newcastle United, beginning in the 1950s with Ted and George Robledo, Anglo-Chileans who played in FA Cup-winning teams. In 1987 the club signed centre-forward Mirandinha, the first Brazilian to play in English football; a decade later Colombian winger Faustino Asprilla had a couple of erratic years at the club while Argentina centre-back Fabricio Coloccini was a key figure in Newcastle's defence for eight years from 2008. The year before Coloccini arrived, Nolberto "Nobby" Solano finished his second spell at St James' Park. The Peruvian midfielder, like Mirandinha the first footballer from his country to play in England, had arrived from Boca Juniors in Argentina, who in turn he had joined from Cristal in Peru, at the age of 23 in 1998.
Solano had a long international career, playing 95 times for Peru in 15 years, and was one of the national team's best players in a period when they failed to qualify for any World Cups, with players needing protection from fans throwing eggs after a 6-0 defeat to Uruguay during qualifying for South Africa 2010.
He made 230 league appearances in his two spells at Newcastle, scoring 37 goals, and was part of the team that reached the 1999 FA Cup final, losing 2-0 to Manchester United. While generally used as a right-sided midfielder, he was also appreciated as an emergency right-back. An occasional feistiness was reflected in his being the first of many Premier League players to be sent off by Mike Dean, in a game at Ipswich. While not the fastest wide player, Solano was a fine passer and capable of scoring spectacular free-kicks.
The goal he is probably best remembered for, though, is a 90th-minute winner at Leeds in December 2001, Newcastle's 4-3 victory putting them three points clear at the top of the table. A win in the return fixture the following month was the last time that Bobby Robson's side led the table – successive defeats against Arsenal and Liverpool in March ended their title challenge. Solano was a regular in the side that finished third the following year while also reaching the second group stage of the Champions League, a run ended by defeat to Barcelona in March 2003.
Solano had one more major contribution to make that season, however, scoring the penalty that clinched a 1-0 win at Sunderland in April. The next season he was substituted in almost every game he started before moving to Aston Villa in January 2004, but he returned to Newcastle a little over a year later for a further two seasons. After playing for another three English clubs, plus one in Greece, Solano's final League appearances were made with Hartlepool in 2011-12 when he was signed by former Newcastle coach Mick Wadsworth.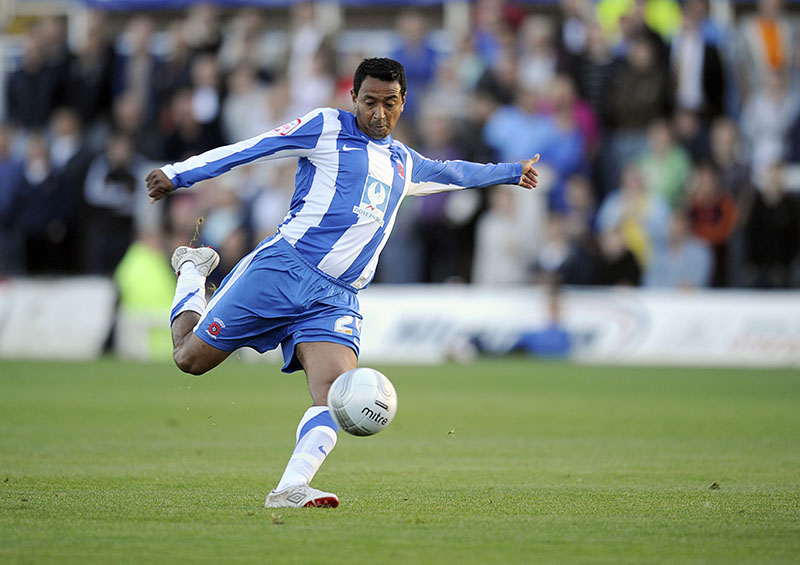 During this time he still appeared regularly on Tyneside, playing the trumpet for a salsa band in a local bar. Solano began to learn the instrument as a teenager in Peru but didn't restart until he moved to Newcastle and the friend of a neighbour gave him lessons.
Solano coached at Newcastle Benfield in the Northern League while still registered as a player with Hartlepool and later had a couple of brief spells as a first-team coach in Peru, including with one of Lima's big two clubs, Universitario. Solano had begun his career as a teenager with Universitario's main rivals, Alianza, and played for two other Peruvian teams before joining Boca Juniors. After a brief spell in Canada he has since worked as an assistant to Peru's national team coach, Ricardo Gareca.
Main photo and Hartlepool United photo by Colorsport
This article first appeared in WSC 387, June 2019. Subscribers get free access to the complete WSC digital archive – you can find out more here