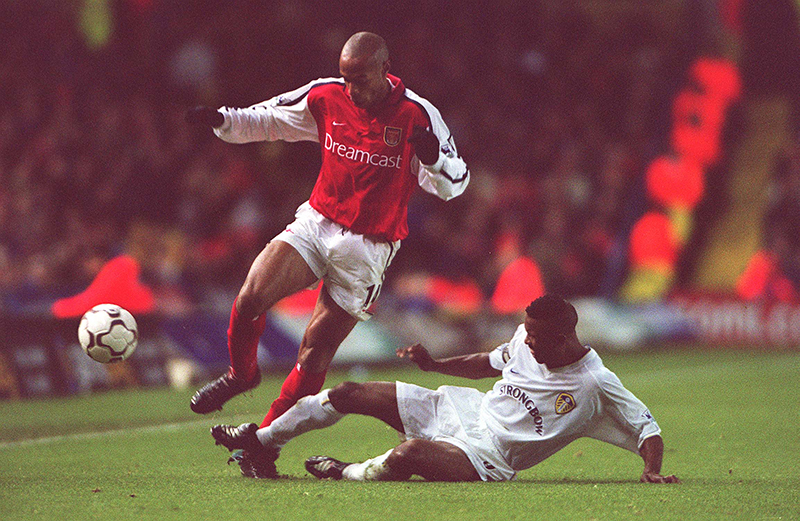 The South African took time to adapt to the English game but went on to play a crucial role as Leeds regularly challenged in the Premier League and Europe under David O'Leary
3 July ~ Leeds United were pioneers in signing black South African footballers. Right-winger Gerry Francis arrived in 1957, and played intermittently before leaving for York City in 1961. That year, his better-known compatriot Albert Johanneson, a left-winger, was brought over. Johanneson played a key role in the team's promotion from Division Two in 1963-64 and stayed at the club until 1970 before also having a short spell with York.
FIFA lifted its 30-year ban on South Africa after the racist apartheid era ended in the early 1990s. For their first international match after the lifting of the suspension, a 1-0 win over Cameroon in Durban on July 1992, the team included two players who signed for Leeds two years later. Striker Phil Masinga, who was the more highly rated of the pair at the time, failed to settle, though he did go on to have a successful career in Italy. Lucas Radebe, previously with the Soweto club Kaizer Chiefs, also took time to adapt to his new team but became a Leeds mainstay for several years.
Radebe's first manager at Elland Road, Howard Wilkinson, tried him in midfield and at left-back without notable success, while a cruciate injury picked up in March 1995 put him out of action for the best part of a year. Those early days did at least include one of his most memorable performances for Leeds when he replaced goalkeeper Mark Beeney, who was sent off after 15 minutes of a league game at Old Trafford. Radebe kept everything out, including fine stops from Brian McClair and Andrew Cole, until finally being beaten by a spectacular effort from Roy Keane late in the second half.
Radebe made a triumphant return home to lead South Africa to victory in the 1996 Africa Cup of Nations final and appeared against England in 1997 but was only given an extended run in the centre of Leeds' defence under Wilkinson's successor George Graham, appointed in September 1996.
David O'Leary replaced Graham two years later and played a key role in Radebe's development into a consummate defender who organised and inspired colleagues. Dominant in the air and a master of last-ditch tackles, he kept a succession of international strikers quiet while Leeds made progress in Europe – they reached the Champions League semi-finals in 2000-01 – and had spells at the top of the Premier League.
Such was his standing in Leeds that a soon-to-be famous local band the Kaiser Chiefs named themselves (almost) after his former club. Radebe himself attributed his openness to supporters in part to the harrowing experience of witnessing a crush at the January 1991 Soweto derby between the Chiefs and the Orlando Pirates, where 42 people died.
O'Leary's faith seems to have been key in Radebe deciding not to follow Graham to Spurs and to turn down approaches from Chelsea and Roma. He stayed even after Leeds got relegated in 2004 amid financial disarray, but by then was picking up a succession of injuries.
He made a farewell appearance as substitute in a 0-0 home draw with Rotherham in May 2005. His testimonial at Elland Road the same year attracted a full house and well over a decade after his retirement Leeds fans still sing his name at every game.
Main photo by Colorsport
This article first appeared in WSC 388, July 2019. Subscribers get free access to the complete WSC digital archive – you can find out more here