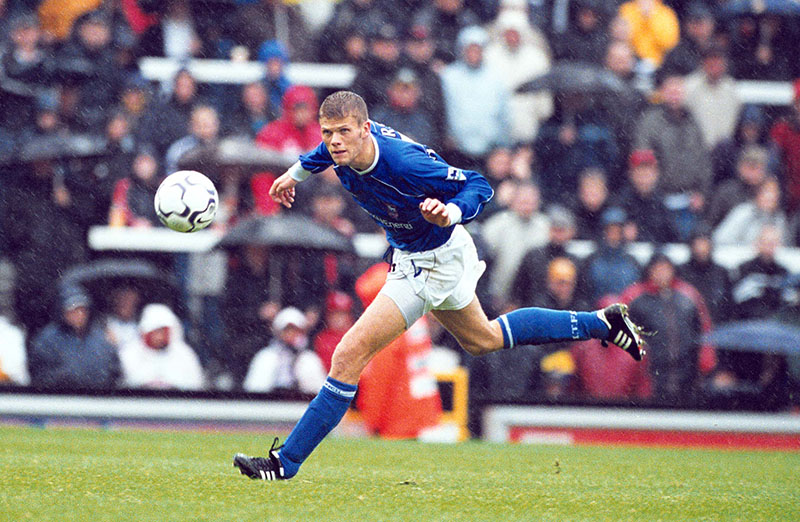 The versatile defender was a popular figure wherever he went during his long career in England, and having won the FA Cup and played in Europe, he achieved far more than most
31 July ~ Hermann Hreidarsson was to spend 15 years in English football after leaving his first club, IBV in his native Iceland, for Crystal Palace in 1997. He quickly developed a reputation as a fierce competitor, known for his crunching tackles and a distinctive high-kneed, first-pumping running style.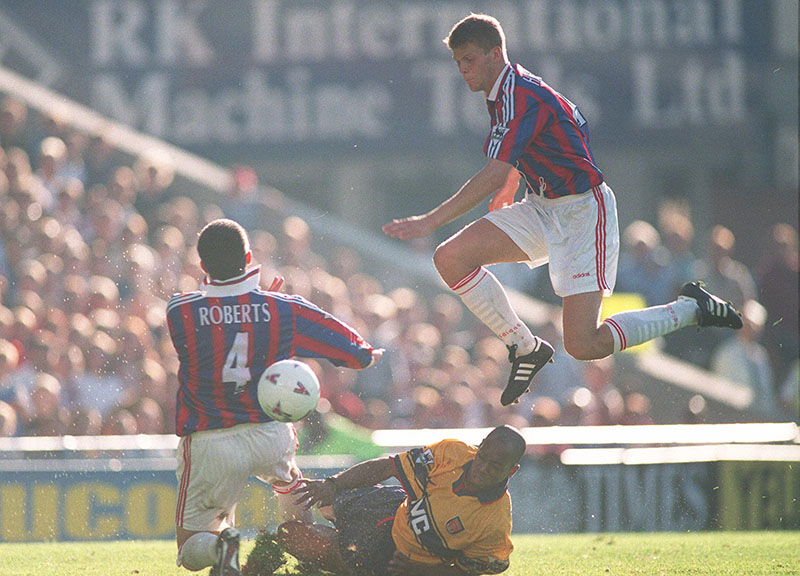 In the 400 league appearances he made, one moment at Portman Road in 2001 serves to show why he became a popular player with his various clubs. After just over a year each with Palace, Brentford and Wimbledon, the 26-year-old joined Ipswich Town in August 2000 ahead of their return to the Premier League. Used alternately as a left-back, left-wing-back and centre-half, he essentially filled the hole in the defence left upon Tony Mowbray's retirement from playing.
Town finished fifth that season, their highest position in 19 years, and were briefly placed in third after a 3-1 win over Bradford City on Sunday, March 4. Their third goal that day came when Hreidarsson headed in from a corner. Having scored a couple in away games, this was his first goal at home, and to celebrate he jumped the hoardings and threw himself headlong into the jubilant North Stand. The goal was ultimately credited to striker Mark Burchill, the ball having glanced off his head before it went in, but the giant defender taking flight became one of the most memorable images of the season for Ipswich fans.
Another key performance came the following season against Helsingborg of Sweden in the UEFA Cup, when he scored one of the goals in a 3-1 victory which saw Ipswich into the third round and a tie against Internazionale. Despite European heroics, Ipswich went down that season and the Icelander would eventually set a record, since equalled by Nathan Blake, in being relegated from the Premier League with five different clubs.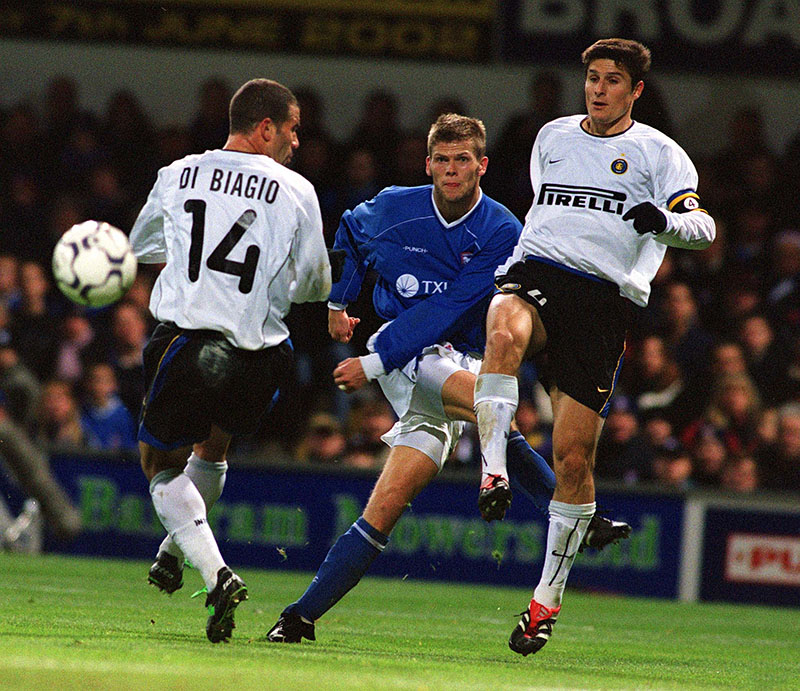 He remained at Portman Road, but when Ipswich went into administration in February 2003, as one of the club's highest earners he was sold outside the transfer window to Charlton the following month. His first full season there was a huge success, playing a major role in Charlton's best Premier League season – they finished seventh in 2003-04.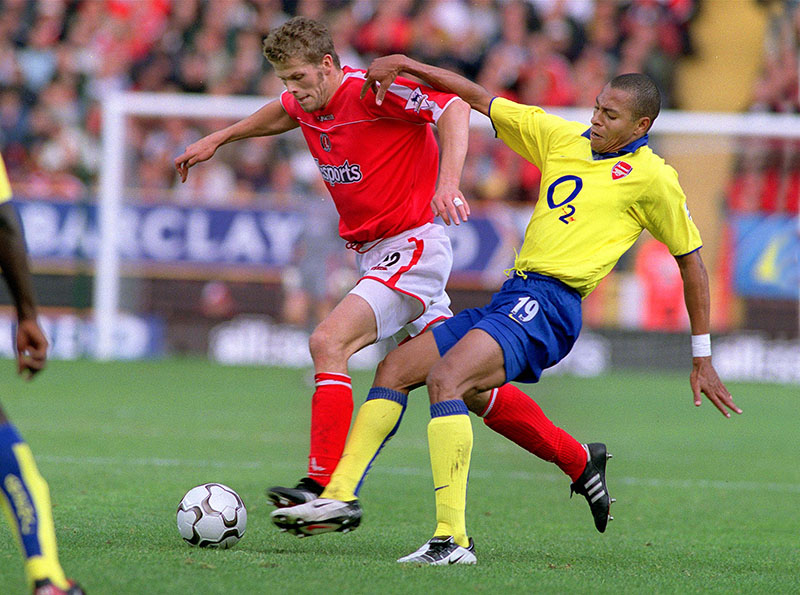 One of the three league goals he scored in his four seasons at The Valley came on Boxing Day 2003 against Chelsea, when he towered above a static defence to score the opening goal in a 4-2 victory. He celebrated in the way defenders often do – not quite sure where to run or what to do with his hands – until Paolo di Canio intercepted him.
Charlton's relegation in 2007 triggered a free transfer clause and a move to Portsmouth where he went on to win the FA Cup in his first season, as well as scoring in the famous 7-4 Premier League victory over Reading. Hreidarsson became something of a cult hero among Pompey fans, widely admired for his general wholeheartedness and fairly manic aggression. Team-mates were also said to be appreciative of his performance of Elvis songs in a karaoke session the night before the FA Cup final. Along with the scorer of the following day's winning goal, Nwankwo Kanu, he was one of the few members of the FA Cup squad that stuck with the club through to the lower reaches of the Championship.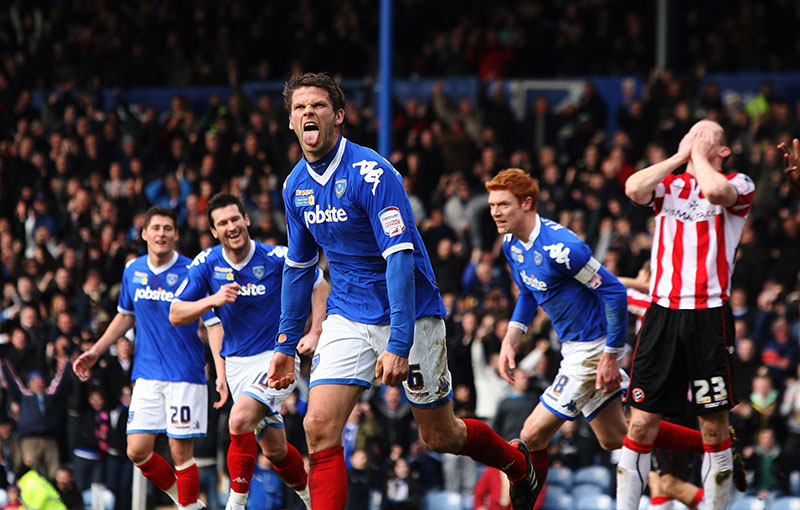 He rejoined IBV as player-manager in 2013 and signed former Portsmouth team-mate David James. After spells in charge of the men and women's teams of Fylkir (his ex-wife, Ragna Loa Stefansdottir, was also an Icelandic international), he teamed up with James again, this time as the latter's assistant, at Kerala Blasters in the Indian Super League in 2018.
At that summer's World Cup group stage match between Iceland and Nigeria in Volgograd, a replica-shirt-wearing Hreidarsson was caught in the crowd by the television cameras, his fist-pumping reaction to a penalty being awarded to Iceland – during which he seemed to break his sunglasses – demonstrating the same fervour he used to show on the pitch.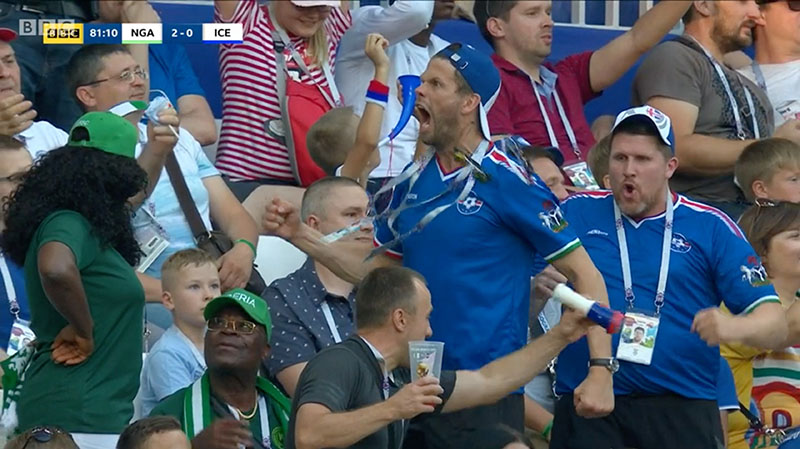 Photos: Hermann Hreidarsson playing for Ipswich in 2001; Crystal Palace in 1997; against Internazionale for Ipswich in 2001; Charlton in 2003; Portsmouth in 2011 (all by Colorsport); captured in the 2018 World Cup crowd by BBC TV.
This article first appeared in WSC 389, August 2019. Subscribers get free access to the complete WSC digital archive – you can find out more here