The flamboyant forward delighted the Premier League with his eye for the spectacular – and helped save the Bantams by writing off the millions owed to him in wages
4 November ~ Benito Carbone made a fitful impact during Serie A spells with Torino, Napoli and Inter, playing eight times for Italy's Under-21s but never for the senior side. With first-team opportunities limited at Inter under Roy Hodgson, Carbone became Sheffield Wednesday's record signing when he moved for £3 million in October 1996. Along with providing a photo opportunity with manager David Pleat and some uninspiring pasta, Carbone's signing was supposed to kickstart Wednesday's European push and his debut against Blackburn on October 19 coincided with the start of a run of just one defeat in 20 games.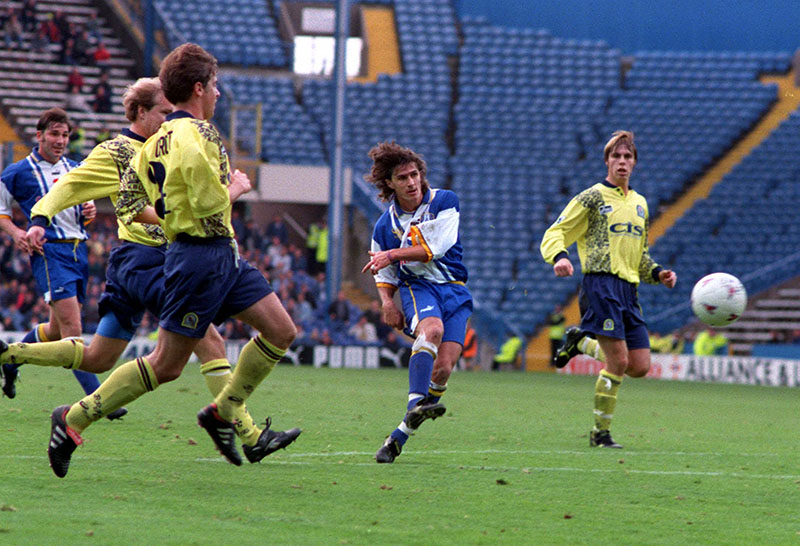 "Beni", as he quickly became known, contributed a handful of goals – including a curled effort in a draw with eventual champions Manchester United – which were normally followed by a trademark windmill arm celebration. His flamboyant style alongside the more robust Andy Booth helped Wednesday to seventh. The signing of fellow Italian Paolo di Canio the following summer – which prompted another stereotypical photoshoot, with the players biting into an uncooked supermarket pizza at Hillsborough – was supposed to push Wednesday up the table but instead they endured a disastrous start.
This period showed off Carbone's career in microcosm as some of his most spectacular goals – an overhead kick following neat chest control against Newcastle on the opening day, and a 30-yard thunderbolt off the bar at Blackburn – were ultimately only consolations, the latter in an ominous 7-2 defeat in which he was also sent off for headbutting Kevin Gallacher. Cracks in a fractured dressing room began to show during a 5-2 home defeat by Derby when Carbone, having berated team-mate Wayne Collins for a poor pass, was grabbed round the throat by fellow forward David Hirst.
Pleat was soon replaced by Ron Atkinson, who doted on Carbone and lavished him with boiled sweets every time he pulled off a trick in training. Wednesday avoided relegation but at the end of the season Atkinson was replaced by Danny Wilson. The latter made his feelings towards Carbone clear after a League Cup exit to Division Three Cambridge United in September 1998 in which the player put in a lacklustre performance. "As far as I'm concerned you can say bollocks to that Fancy Dan shit," Wilson said.
Carbone's time in Sheffield lasted one more year. He spent the following summer wrangling over a new contract and then scored a spectacular lob after coming on as a substitute in an opening-day defeat to Liverpool. It was one last thrill for the fans and the winless Wednesday's 8-0 humiliation by Newcastle in September 1999 was Carbone's final appearance for the club, as he was shipped off to Aston Villa in a cut-price deal. Wednesday ended the season relegated.
The highlight of his one season at Villa was a stunning hat-trick in a 3-2 win against Leeds United in the FA Cup fifth round. Carbone fell out with manager John Gregory and his last game was the Cup final, which Villa lost 1-0 to Chelsea.
Carbone's next move was to Bradford City where then-chairman Geoffrey Richmond called him "the most exciting signing in our history". His home debut might have seemed to bear that out when he scored in a 2-0 win against Chelsea – a game seen as the peak of City's rise. That the club had probably unrealistic expectations of him was shown when manager Chris Hutchings predicted Carbone would score 20 goals a season despite the fact he'd never come close to that in his career.
Ultimately, City's relegation meant they were unable to afford Carbone's £40,000-per-week salary. Back in Division One they couldn't find a buyer and loaned him out twice – to Derby and Middlesbrough.
Between moves, Carbone had probably his best game for the club in September 2001, in a 5-1 defeat of Gillingham where he ran the show, scoring the fifth goal. In the summer of 2002 City went into administration, after which Carbone agreed to write off the millions he was owed, saying he didn't want to be the person who put Bradford out of business – actions that saved the club.
Photos: Benito Carbone celebrates a goal for Bradford at Middlesbrough in 2000 (Getty); scoring on his Sheffield Wednesday debut against Blackburn in 1996 (Colorsport); holding off the challenge of Leicester's Matt Elliott in 1997 (Getty); being tackled by Rio Ferdinand in 1998 (Getty); playing for Aston Villa in 1999 (Getty); challenging Celestine Babayaro in the 2000 FA Cup final (Getty); scoring against Chelsea in August 2000 (Getty); on loan at Middlesbrough in 2002 (Getty); celebrating a goal for Bradford in 2001 (Getty)
This article first appeared in WSC 392, November 2019. Subscribers get free access to the complete WSC digital archive – you can find out more here