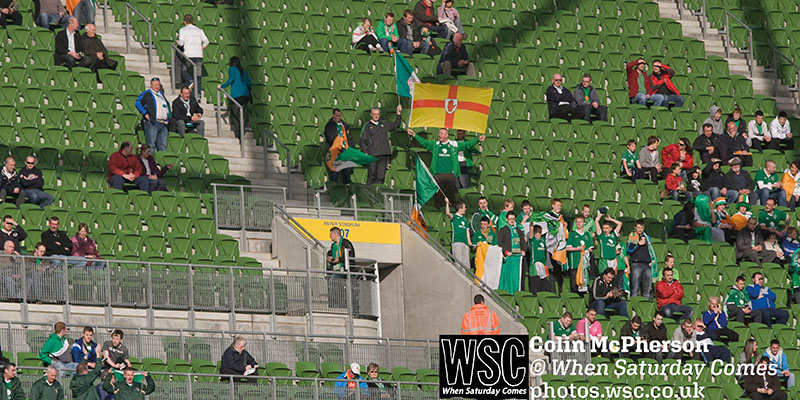 Originally planned to run every two years, the Home Internationals revamp never returned after a disastrous first instalment
May 27 ~ In football's long parade of bad ideas, the 2011 Carling Nations Cup – wholesomely dubbed the Celtic Cup before sponsors swooped in – was so packed with farce it seems more like a fever dream with every passing year.
A long-rumoured replacement for the Home Internationals, the goal was to pit the Republic of Ireland, Northern Ireland, Wales and Scotland against each other once every two years. With England expected to join future editions, gone would be the humbling pleas for friendlies against teams higher up the FIFA rankings and inevitable consolation match-ups against those below. Instead, organisers touted Pathé newsreel nostalgia at 2011 Sky Sports prices and promised to solve the riddle of those tedious, non-qualifier international breaks, long before UEFA dreamed up the Nations League.
Ireland was selected as the cup's first hosts, with the FAI confident a series of boozy away days in Dublin would entice travelling fans. The Aviva Stadium, which had opened the year before with its corporate name and lucrative 51,000-seat capacity, would hold all of the games. Confidence was running so high that planning began for the 2013 edition, with Cardiff's Millennium Stadium next in line.
A decade on and the Nations Cup has been quietly packed away along with all the other faintly embarrassing 2011 fads, such as planking, Angry Birds and Owen Coyle. Things started to go wrong from the first whistle. Both games in the opening round of fixtures on February 8-9, including the hosts' curtain-raiser 3-0 win over Wales, failed to break the 20,000 attendance mark.
Despite an economic crisis still raging on the island, the FAI's cheapest tickets cost €50 (£45), before a panicked reduction to €35 as sales stalled. It was too little too late.
Crowds plummeted further during the second and third rounds of games. Northern Irish fans, incensed by draconian security measures, boycotted their matches, including the derby against Ireland. It was a good decision. A number of home fans booed God Save the Queen, Northern Ireland lost 5-0 and the sight of Celtic's Niall McGinn swapping shirts with Robbie Keane after the game, before admitting he had grown up supporting the Republic, left a sour taste for many.
Just 6,036 turned up to the Scotland v Wales game the next day but there was, at least, a creative new excuse: an Icelandic volcano, Eyjafjallajokull, had erupted and spewed ash into the air over western Europe, grounding the small number of away fans planning the trip. The Welsh, arguing against a crowded schedule that had left them playing two matches in three days, demanded a better set-up next time. When just 529 fans – barely one per cent of the Aviva's capacity – attended the penultimate game, in which Wales beat Northern Ireland 2-0, nobody was in any doubt that there would be no second edition.
With just one game left there was still time for a final humiliating twist. In the lead-up to the winner-takes-all match against Scotland, Ireland manager Giovanni Trapattoni admitted he had lost one of his players. For ten days, recent debutant James McCarthy had gone incommunicado – coincidentally just before he was set to play against the country of his birth. Wigan eventually issued a vague dispatch saying their 20-year-old midfielder was injured, prompting Trapattoni to say he expected his players to feature "unless they are in hospital or dead". The tournament's time of death was recorded soon after the closing fixture, in which a Keane goal clinched victory for the home side.
Before the tournament, Scottish legend Archie Gemmill was asked whether he supported the idea of England joining future editions. Of course, he said. "There's nothing like getting one over the English." In finishing top in 2011, Ireland secured only their second-ever piece of silverware, after the Iceland Triangular Tournament of 1986 (which had involved wins over the hosts and Czechoslovakia). But it was England, by the simple fact of not turning up, who were the real winners. Joey Millar
Photo by Colin McPherson/WSC Photos
This article first appeared in WSC 410, June 2021. Subscribers get free access to the complete WSC digital archive – you can find out more here