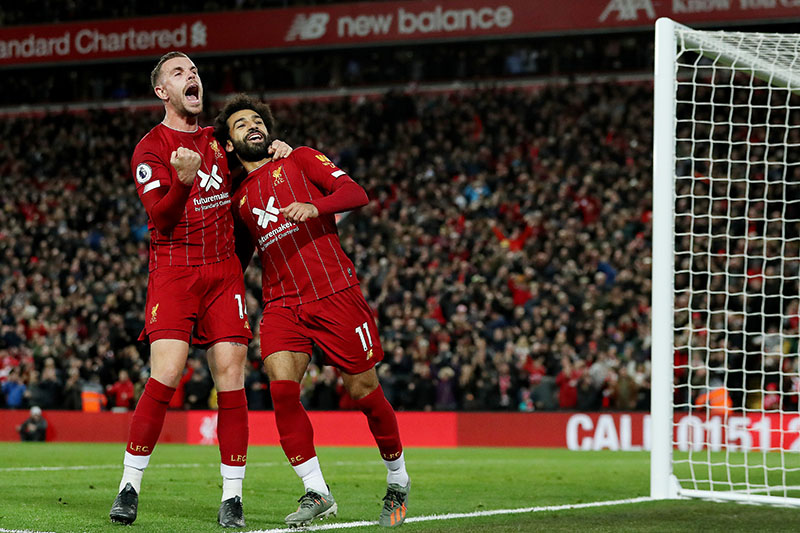 There's no doubt who will be champions this season, but the top-heavy nature of the Premier League makes it unlikely another new name will be on the trophy any time soon
February 18 ~ We're going to risk a prediction. Liverpool will become the seventh different Premier League winners at some point in March. One of those clubs, Blackburn, are not likely to be competitive again in the near future unless they get bought up by some oligarch. A second, Leicester, did at least challenge at the top during the first half of this season, and look set to qualify for the Champions League. The other four are currently said to be in various states of crisis. They are not having poor seasons by the standards of most other clubs, all still being involved in European competitions and domestic cups at the time of writing. But the reporting of the indignities they have had to suffer over the past six months – dalliances with the bottom half of the table, the failure to land various transfer targets – has at least helped to fill back pages in a season when the title race has become a procession.
While Liverpool's run of 30 years without a title is something their fans in the UK have been acutely aware of, it may not have been felt as strongly by the worldwide fanbase given that they have been European champions twice during the period. Nonetheless, that second Champions League title last May was the club's first trophy since 2012, their longest run since a previous seven-year drought ended in 1973. As Liverpool are likely to win the title by a record margin, having lost only one of their last 63 league games, it might seem like they are set for a long period of dominance. Then again that might have been expected of Manchester City after Pep Guardiola's second season in 2017-18, when they took the title by 19 points and were almost uncatchable by the end of December with 19 wins in their first 20 games – including a 5-0 defeat of Liverpool.
Towards the end of that season, Premier League chief executive Richard Scudamore angered City fans when he suggested that their stroll to the title was not to be welcomed because it didn't suit the competition's TV paymasters: "We want the season to go to the last, I'd like multiple trophies needed in various locations on the last day." This even prompted some City fans to wonder if they did not get the run of refereeing decisions the next year when they only took the title by a point with a win in the final fixture. Guardiola's lingering annoyance at the comment was apparent when he referred to it after his side's defeat to Spurs at the start of February that left them 22 points adrift: "City winning the titles that way with 100 points is not good for the Premier League, now it's Liverpool."
Beyond the few nurturing conspiracy theories, City fans more generally seem to feel that they haven't received due credit for their recent success, that it has even been begrudged to an unprecedented degree because of the club's wealth. Certainly Scudamore appeared to have no problem with Manchester United's two title trebles in the Alex Ferguson era. In fact, Kevin Keegan's complaint in 2008 that the league United were about to win again was "boring" drew a testy reaction from the competition's chief executive: "The reality is that there is no one who is interested in football who thinks the Premier League is boring."
For all United's financial power, the first of those trebles at least was achieved in a way that did not represent a significant departure from previous eras of dominance by other clubs – the team that completed the first three-in-a-row in 2000-01 featuring seven regulars who had come up through the youth system. City's recent teams have included just one, Phil Foden, while Liverpool this season have only two.
The Premier League, brought about by the avarice of a few clubs, has been further reshaped – warped, some might say – by the immense wealth of a few owners. So even in a season when one of those owners, the Fenway Sports Group, are presiding over a record-breaking title win, supporters of the modest majority of clubs might at least derive some amusement at the vexation felt by the Champions League regulars who are currently trailing Sheffield United. There is no major shift happening. City after all could still be European champions this season and the Premier League will gets its close race again soon. But we may have to wait a while for an eighth title-winner.
Image by Colorsport
This article first appeared in WSC 396, March 2020. Subscribers get free access to the complete WSC digital archive – you can find out more here