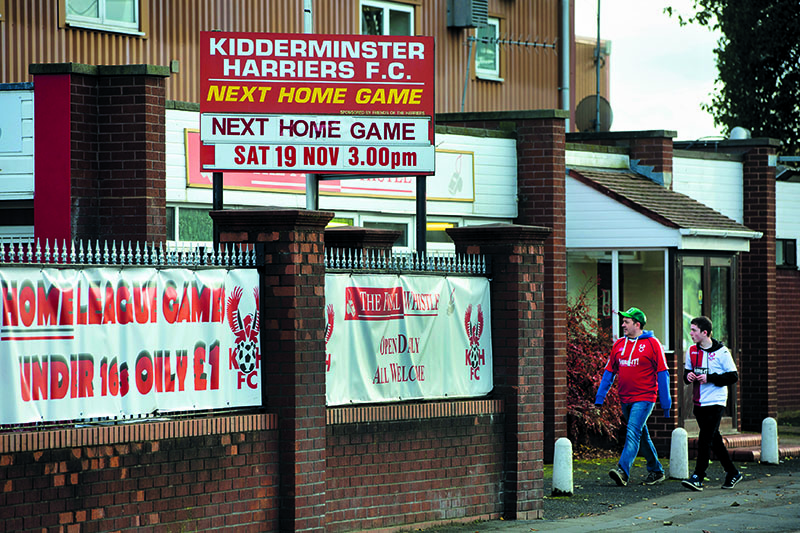 Forget statistics such as results and goalscorers, it is crowds that can provide fascinating context for matches, especially if they drop below the magical 1,000
22 November ~ The first football match I attended was Hereford United v Hartlepool United on Saturday March 21, 1987, aged 11. Hereford won 4-0. It was an afternoon of new experiences on many levels. I hadn't previously witnessed so many people congregate in such a confined space. The attendance of 1,832 was modest even by Division Four standards of the day. But given my previous public outings had been limited to a few dozen shivering individuals at a firework display or midnight mass, it left an indelible mark.
For reasons I've never truly understood, Edgar Street was the genesis of a fixation with attendance statistics. On the final day of the 1986-87 season, Burnley faced Leyton Orient in a game that would decide the former's Football League status. I knew from meticulously scanning and recording the results section of the national press every week that the Clarets averaged around 3,000 at home. So, when 15,781 turned out at Turf Moor to see Burnley win 2-1, I was staggered by the deviation. Match reports focused on the former Division One champions avoiding relegation to the Conference. I was more interested in the numerical anomaly.
Had Burnley been relegated, they would have faced the team I came to support, Kidderminster Harriers. League crowds at Aggborough in the 1987-88 season never dipped below 1,000, and for the next few years I took this arbitrary number to be a benchmark of stability. Occasionally it eclipsed the importance of the scoreline. Surreptitious phone calls to the eye-wateringly expensive Harriers ClubCall – essential when midweek travel to fixtures was impossible – ended in relief when the evening's attendance was announced in four figures. Anything less would have left me with an impending sense of dread.
Attendance figures became a staple of my football education. Particularly at the low end of the scale. When I learned Rochdale posted a crowd of just 588 for the Division Three visit of Cambridge United in February 1974, it generated an awe usually reserved for grainy photos of endless flat-capped rows on clinkered terraces. Part of this was no doubt down to upbringing. On a football club trip to watch Manchester United v Coventry City in 1989, I was left indifferent by the vast assembly inside Old Trafford. Witnessing a gate of this size was culturally detached. I grew up in a small market town and regularly watched non-League football in sparsely patronised grounds. Large vociferous gatherings had little relevance to my own life.
By contrast, attendances in the Conference or Southern League, dutifully chronicled in the regional media and non-League directories, felt far more identifiable. I could comprehend and feel kinship with reports of a few hundred souls at Redditch United or Bilston Town in a way that 40,000 at Old Trafford would never allow me. Few things gave me greater pleasure in my formative football years than analysing lower-level crowds. The more inexplicable the better: if Bridgnorth Town had a twofold increase from their last home game, I'd spend many happy hours speculating why.
Of course, had I known then what I know now, some of this indefatigable appeal may have been eroded. Football attendances have always been riddled with inaccuracy. Victorian and early Edwardian clubs typically counted turnstile receipts rather than clicks, leaving journalists to estimate the size of the crowd. Match reports in the first half of the 20th century would often feature wildly differing figures for the same game or be rounded to the nearest thousand. The situation is little better today. Last month, under a freedom of information act, the BBC revealed several Premier League sides significantly overstated attendances, publishing figures based on tickets sold, rather than those in the ground. And at non-League level, certainly from Step Three down, clubs are known to announce gates based on head count, estimate, or, as one official at a Step Five club told me, by simply making it up.
Such duplicity has not affected the preoccupation with crowd numbers that has remained with me since childhood. Being deprived this all-important detail is like finding the last page torn out of a whodunit novel. Even now, when chatting to someone at a match, one of the first things I ask is "how many do you think are here?". It's a form of statistical Tourette's. The only way to control it is watching a level of football so far down the pyramid that rather than comprise part of the attendance, I am the attendance. No need for questions then. Although I still record the figure for posterity. Mike Bayly
Photo by Colin McPherson/WSC Photos: Kidderminster Harriers supporters are counted through the turnstiles at Aggborough

This article first appeared in WSC 380, November 2018. Subscribers get free access to the complete WSC digital archive – you can find out more here