Autocratic owners seem to think their wealth allows them to do what they want but well-organised supporters' groups have proved up to the fight
22 February ~ There is a phalanx of new owners of clubs in the Championship and lower reaches of the Premier League all doubtless hoping, perhaps even believing, that they can emulate the recent startling success of Leicester City. Bluebirds fan Scott Johnson has written Cardiff City Rebranded – an account of Vincent Tan's short-lived attempt to turn that club from blue to red. This is an important case history of a conflict between supporters and a newly installed autocratic owner.
Looking from the outside I see a great many similarities between this struggle (beginning in 2012) and that starting a year later between Assem Allam, who wanted to turn Hull City into Hull Tigers, and the "City Til I Die" campaign that has semi-successfully resisted the move. Through massive financial investment, on a scale very few Brits are now prepared to put in, such owners feel they are entitled to the acquiescence of all around them.
You can sense, in the Cardiff case, many players and staff subscribe only through very gritted teeth. Without this investment the owners claim the club would go bust but with it, and the changes to the club image they want to force through, the future would be bright.
In both cases there is a mythical pot of gold at the end of the rainbow, specifically the extraordinarily loosely defined "Asian market", which neither has researched in any great detail even though it is the magic ingredient set to transform their commercial fortune.
These disputes turn on different perceptions of what is owned by whom. Tan once claimed on his own behalf, regarding shirt colour: "If you don't have a say, why the hell do you put in so much money?" Resistant fans took the view that he is only the passing legal guardian or custodian of their culture that existed way before his arrival and will long survive his departure.
One has to read between the lines of Johnson's book to sense what Tan, and other similar owners, actually want from their ownership. Understanding this might help fans' groups in negotiations. The desire to become a well-respected businessman plus the sheer enjoyment of participating in football at a high level have always been part of the director's deal. The thrill of victory and popularity is a balm to the ego. Vincent Tan was last getting his kicks in this regard in Sarajevo, where his club (he has a third in Belgium) won the league in 2015.
Being a success abroad also brings honour and glory in the homeland and how Cardiff were seen in Malaysia was an important consideration for him. Finally there is always a chance of a financial return on the investment or, because of how football works, what better be termed the bet. Most of these benefits flow to the person himself rather than the community the club represents.
There is a medieval quality to aspects of autocratic owners' utterances (and medievalism appears to be on the way back politically). Tan talks about lucky colours, about honour in his native land, the influence his deeply religious mother has had; Allam's specific hang-up is with the word "City" and its association with the city council, with whom he has been in fierce dispute.
Both men seek justification and approbation through local charitable donations in a manner reminiscent of medieval nobles building chantries where local people could pray for their souls. Yet both consider vengeful moves on ticket pricing when fans do not allow them to get their own way. Ultimately the Cardiff case depended on finding a solution where neither party lost face. While Allam has failed to change the official name of Hull City in the league table, "Tigers" branding abounds within the stadium and club-produced material in, perhaps, a slow-burn effort to get supporters used to it eventually.
Cardiff City Rebranded usefully, if sadly, highlights divisions within the fanbase between those that one commentator calls "superfans" and the true believers. The superfans are those who buy the absolutist argument that "it's his club, he's put the money in, he can do what he wants with it" and would have been the happiest to wear the free red scarves manipulatively given away before one home game.
But in the end it is the hardcore, the supporters' groups and representatives, who the club choose to deal with in order to break the impasse. All customers are equal before the cash-till but not all supporters are equal in influence before the media. This is a useful lesson for supporter activists to remember. All those miles travelled, money spent, meetings attended and messages sent do create respect and value.
Scott Johnson's pessimistic conclusion is that the two-and-a-half year identity dispute, despite being resolved in the fans' favour, has broken many unifying bonds and the club are now in a weaker state than before, usually playing in front of a half-full stadium. At Hull City supporters are waiting for a change of ownership as the club have been up for sale for some time. Again the fanbase are somewhat divided about a recent match boycott and a general feeling of gloom prevails.
If there is a winner in any of this it is that the issue of club identity and heritage has consequently been pushed up the agenda over the past five years. As part of the Structured Relationship proposal, now endorsed by Premier League and Football League clubs, any attempt by club management to make significant changes in this area should be part of a formal discussion with supporters' representatives. How much force this directive has we shall doubtless see over the next couple of years. Roger Titford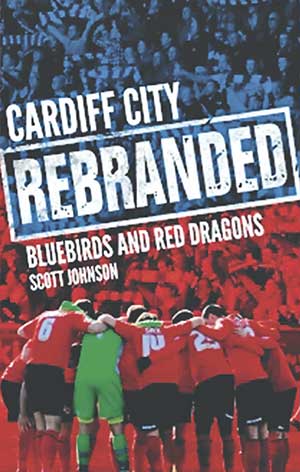 Cardiff City Rebranded: Bluebirds and Red Dragons by Scott Johnson is available here
This article first appeared in WSC 361, out now