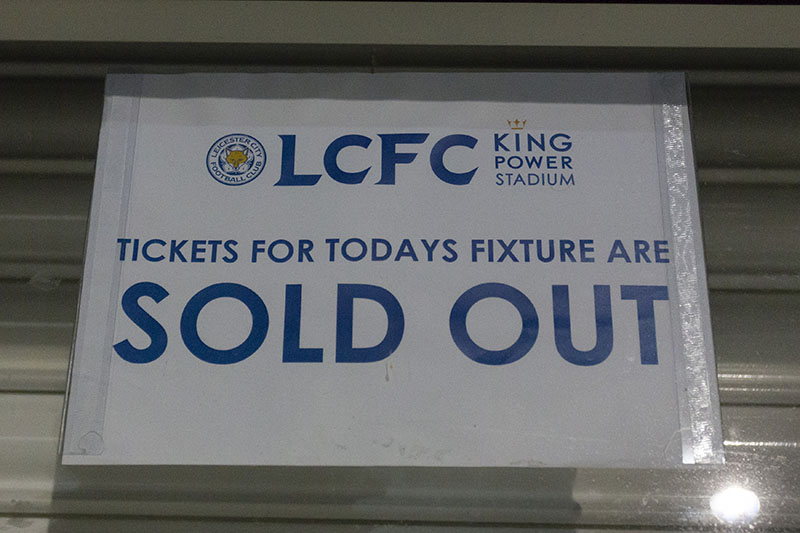 For one supporter, the off-field impact of the Foxes' unprecedented Premier League title win has made a different type of matchday experience increasingly appealing
17 September ~ There was a time when I looked down on people who changed the team they supported. A Leicester fan for the last 35 years, I'd found it annoying when friends started following another team when they moved away from the city; even more tiresome were the fairweather City fans of my childhood who went on to adorn their social media profiles with Chelsea or Liverpool crests. But now – at a point when Leicester are at their most successful – I find myself questioning my own allegiance.
It started around the time that Leicester won the Premier League in 2016. I didn't feel deep joy, and nor did I bask in reflected glory – I was just confused. Maybe it was the oddness of watching Wes Morgan lift the trophy after being weaned on second-tier losses against Port Vale, Anglo-Italian Cup ties in the drizzle and the previous high-water mark of Ian Marshall scoring away at Atlético Madrid, but I wasn't sure what to think as work colleagues who had previously not known which league Leicester were in suddenly wanted to talk Jamie Vardy.
There was also frustration, which had been building for some time. I used to appreciate getting the thinly disguised begging emails reminding me there was still time to get a ticket for a Championship game against Luton Town on Saturday, and I always turned up – Leicester needed me as much as I needed them. In the New Leicester era, it's hard to get a match ticket without buying a season ticket or shelling out for "membership" – essentially paying for some poor quality merchandise and the chance to be near the front of a virtual queue for the entire season. It is slightly easier to get individual tickets for the "fans' fixtures", designated for the visits of apparently less attractive opposition, which are an odd concept in themselves: I'd thought all fixtures were for fans.
Frustration turned into isolation at some point. It used to feel special to support Leicester: the football fans who only watched Match of the Day didn't know much about us, but that didn't matter as they wouldn't know how good a weekend spent on an away trip to Edgeley Park felt. In the New Leicester world, such lowly occasions are all but airbrushed from history. All that remains of the past are successes and legends and as a result, the culture around the club feels like one of a high-flying business rather than that of a second home. In any relationship, I think, it's important that the bad and the mediocre are remembered alongside the highlights – they help to inform the future.
Most recently, I started to feel guilt. When the club's very decent owners stumped up £40 million for Youri Tielemans this summer, why did I have to think I'd felt more satisfied when we paid Carlisle United a fraction of that for Paul Fitzpatrick in 1991? Why couldn't I just pick up the cardboard clappers that had been left on my seat and join in the fun, rather than leaving them untouched under my seat week after week? Wasn't the pre-match entertainment, which people had worked hard to put together, something to enjoy rather than find irritating?
Ultimately, I've not felt part of the success machine that is the New Leicester, and I've found my attention drawn elsewhere. Work took me south years ago, and my local team became Wycombe Wanderers. For years I ignored their overtures – swapping teams was only for fake fans – but now I find myself talking about "us" rather than "you" when I join in conversations about Wycombe performances.
I've unintentionally become a Wycombe Wanderers fan, and for the first time in several years I feel happy with my football relationship. The experience of going to a game is more satisfying: nothing at Wycombe is in-your-face or overly restrictive. You can stand close to the touchline, and be trusted to do so. You can bring a decent camera in with you. There's a good-sized terrace as well as plenty of seats: with either option you get to spread out a bit if you want. In the company of friends, it doesn't feel dissimilar to watching a game in your favourite pub. By contrast, the cramped Leicester "matchday experience" resembles – in terms of seating at least – being on a busy commuter train but a long way from the buffet car.
Maybe I'll find myself back at Leicester during the inevitable slump. In the meantime I've broken a core principle I held as a fan, but I don't feel guilty. Leicester and I have drifted apart, but Wycombe need me on a Saturday. That matters more than any League title. Saul Pope
Photo by Paul Thompson/WSC Photos: "Sold out" signs at the ticket office for Leicester v Man City
This article first appeared in WSC 391, October 2019. Subscribers get free access to the complete WSC digital archive – you can find out more here