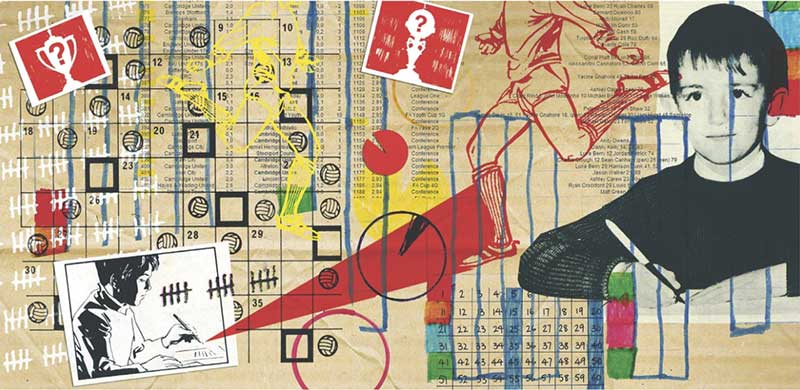 If you know how many times you have seen a headed own goal scored in a cup tie, you will find plenty in common with Matt Ramsay, as he confessed in WSC 301, March 2012
27 November ~ It was when I tweeted that I had just seen my first own goal in 84 matches that I realised I was probably the only person in the world who cared. Statistics have long been presented as a vital accompaniment to sport. But, in the same way that people don't always discuss their fascination with different types of goal nets, fans don't often admit hoarding data that is probably worthless. Perhaps it is time to break that taboo. Surely there are other supporters out there lurking with their spreadsheets.
What began in the infancy of my fandom with an interest in numbers has over time evolved into an elaborate Microsoft Excel labyrinth of colour coding, penalty ratios and goal average formulae. Every game I have ever attended is there. Every score, scorer and competition is included. It serves no real purpose beyond reminding me what I have witnessed since seeing Mark Sale's last-minute winner for Colchester on the opening day of the 1998-99 season, my first ever game at the age of ten.
As a young boy who went to a smattering of matches, it was easy enough to notate my attendance on a single piece of cardboard. Roll forward to my early 20s and I have now attended over 350 matches in the past five years. By traipsing around the country following Cambridge United and being a general groundhopper on blank Saturdays I have brought up a career total of 425 games, since you ask. The reverse of a box of Frosties has long been obsolete.
The great Computer Hard Drive Crash of 2009 – a failure so monumental it deserves its capital letters – should have been greeted with panic over the resulting loss of notes on the "Condition of England novel" ahead of my impending university finals. While being a lesson to those who do not back up their files, it also provided the perfect procrastination tool for the weeks ahead. I went about resurrecting the go-to tool in case I ever wished to find out just how many hat-tricks I have seen (19), or discover just how many Ridgeons League Premier games I was up to (24). The degree was of secondary importance.
Like the impossibly rare Michael Duberry sticker you needed to complete the 1998 Merlin Premier League album, missing details can be infuriating. Without a copy of a teamsheet, how is one ever going to find out the identity of the Diss Town goalkeeper who saved a penalty in the preliminary qualifying round of the 2010 FA Youth Cup? He conceded from the rebound and was on the end of a 12-0 thumping so it shouldn't really matter, but it does.
While keeping records is not a regular topic of matchday conversation, I can be comforted by the knowledge there are others out there. Brian Buck made national headlines last March upon attending his 10,000th game. Seeing so much action is an achievement in itself. It is even more impressive that he had managed to keep an exact count. The milestone occurred when he witnessed CRC's 3-1 win against Brantham Athletic, a match I also attended to leave me a mere 9,637 behind his tally.
This also brings up a contentious matter. What level of football can you count as being a "proper" match? Buck's 10,000th was match number 350 of that particular season, suggesting he must have counted virtually any old kickaround as something to add to the notebook. If I counted Sunday league games my tally would be far greater, having been left out of my team and made to run the line. I draw the line under matches that require an admittance fee. As with other things in football, all I ask for is consistency. Like the original 92 Club, perhaps a definitive set of rules should be drawn up.
Supporters can be reluctant to come clean about plenty of things: matchday rituals and superstitions, pet names for players, supporting MK Dons. Keeping an obsessive record of the number of straight red cards you have seen appears to be one of them. This does not need to be the case. There must be others out there. How else are you supposed to remember how many FA Trophy replays you have attended? Matt Ramsay
This article first appeared in WSC 301, March 2012. Subscribers get free access to the complete WSC digital archive – you can find out more details here
Illustration by Matt Littler