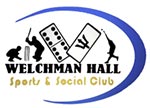 Starting with the image furthest left, one can agree that cricket is a sport, there is no controversy here, although it does take rather a lot of time for everyone to get settled and start playing again after each bowl. And, taking the next image, dominoes is a social activity in the sense that elderly men sit around in the gloom of a bar for hours, not talking but crashing down a domino so that the chap trying to read in the corner has his heart hurled up to this teeth at regular intervals.
The image on the far right, however, shows a popular Barbadian activity, flamboyant curtseying, that cannot be classed as either a sport or a full social activity. Flamboyant curtseying was a craze started by an ambitious young Barbadian politician which took off very quickly, spreading rapidly from council chambers to dance halls via the street.
A government warning was issued in 1996 after several head injuries were reported around the country and flamboyant curtseying briefly went underground, but currently it is enjoying a resurgence in popularity with the most high-profile practitioners wearing head protection when on camera. But it still isn't a sport or a social activity in itself. It shouldn't be on the badge. Cameron Carter
—
Play acting in Brazil worthy of two red cards.
— Goleada Info Vídeos (@gi___videos) October 15, 2016
—
Eibar can be justly proud of their quality certificate.

—
Sheffield Wednesday's Ross Wallace takes a sneak peek at Huddersfield's tactical plan. It paid off as his team won.


;
—
Steve Bruce's novels reviewed: an unpleasant job but someone had to do it.
—
Also in the news this week
Flying pigs at Charlton v Coventry
Tim Cahill scores from 35 yards on his debut
MK Dons boss wants more dishonesty