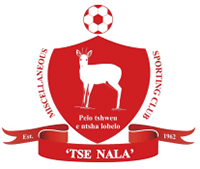 Badge of the week ~ Miscellaneous SC, Botswana
This is what happens when a league uses up all the good names that everyone wanted and is left with a club without a name. In a hurry, the new club's directors did what everyone in a bureaucracy does when faced with categorising something complex quickly, they called the club Miscellaneous and promised to change it to something more apposite later.
Of course things were busy in Botswana at that time and other things took priority (there was a big craze for collecting, labelling and storing sarcastic memos during this period) and 50 years passed with the club still labelled "Miscellaneous". Old, unused players and coaches found their way into the club, along with assorted half-broken equipment and some old Duracell batteries and an unidentified Yale key.
Finally, the club added a deer to the crest, because it was the most miscellaneous animal anyone could think of. Now the club revel in their lack of marketing attention and their fans' chant "No one categorised us, we don't care" is famed around the country. Cameron Carter
—
from Mike Whalley
"People say the Premier League is over-commercialised, but it has nothing on the Blackpool & Fylde Sunday Alliance."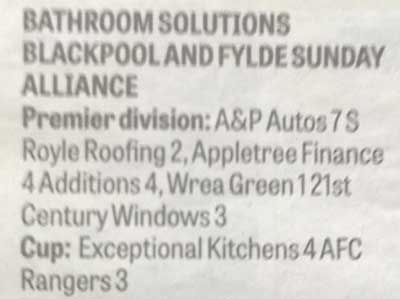 —
San Marino spokesman slaps down Thomas Müller, who may feel the last line the most.
—
Sleeve sponsorship for Premier League clubs. It will be facial tattoos next.
—
The new England manager will be delighted with this endorsement from John Salako.

—
The Football League fine clubs for giving young players a chance in the Checkatrade Trophy.
—
from Mike Bayly
"Hungerford Town plan to name their new stand 'The Nigel Farage Stand' in the hope people will pay to have it renamed. It forms part of a fundraising exercise to meet National League grading requirements. This could set an intriguing precedent. Surely only a matter of time before the 'David Cameron End' is talked of at a cash-strapped non-League outfit."
—
Also in the news this week
Edin Dzeko sent off for pulling down opponent's shorts
Pep Guardiola has sex rules
USA and Mexico players form wall