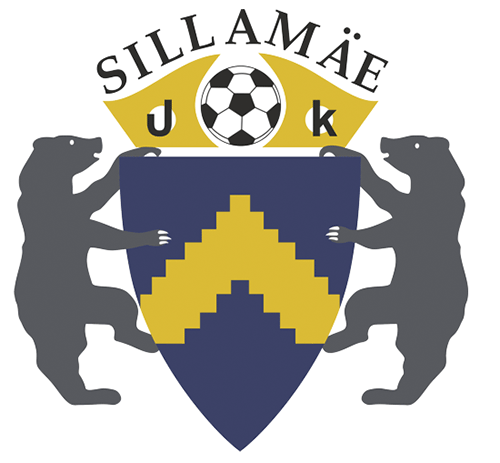 Badge of the week ~ Jalgpalliklubi Sillamae Kalev, Estonia
The crest iconography here centres on two performing bears, specifically, Bodo and Mr Polyokoff, the music hall act of two Estonians dressed as bears that rose to national fame in the 1930s. A typical performance would start with the compere introducing the pair, before running off stage as the two "bears" came on, shouting: "I have no news, I have no news!" (The joke here was that the two "bears" were ravenous for current affairs and would kill for a newspaper.)
A typical piece of dialogue between the two would go:
Bodo: You're late, it's half past nine.
Mr Polyokoff: I will talk to you about this at a quarter past seven, but this is not the time.
Bodo: (Swears in Estonian) What do you mean "This is not the time"?
Mr Polyokoff: Why you see, it is half past 9 now, not a quarter past seven.
Bodo: (Swears in Estonian and looks around for a stick.)
The two were a national institution in Estonia for many years, until the comedian playing Bodo spent some of his earnings on a jacuzzi and took so much pleasure from it that he would miss rehearsals and, later, performances. This meant that their last few shows featured Mr Polyokoff alone, playing both parts and hitting himself intermittently with a cherry bough. The pair are still remembered fondly in the country, however, and are considered funnier, say, than imported British comedies featuring Liza Goddard. Cameron Carter
—
What a heart-warming tale: a "stoned" Robbie Williams gave Brit Award to Wayne Rooney.
—
Toulouse coach Pascal Dupraz deserves a suspension for faking injury when he's brushed by a paper plane.
—
from Nick Drew
"After seeing Luke Varney score for Ipswich this weekend, I idly visited his Wikipedia page to see what he'd been up to since his obvious high-water mark at my own club Sheffield Wednesday. Turns out he hasn't been making himself too popular, at least not with whoever last edited the 'Style of play' section."

—
Best 95th-minute overhead kick scored by a South African keeper this past week.
—
Also in the news this week
Spurs not impressed by Moussa Sissoko
Celtic win their 100th trophy
MP urges a clean-up of football
Wilfried Zaha opts for Ivory Coast