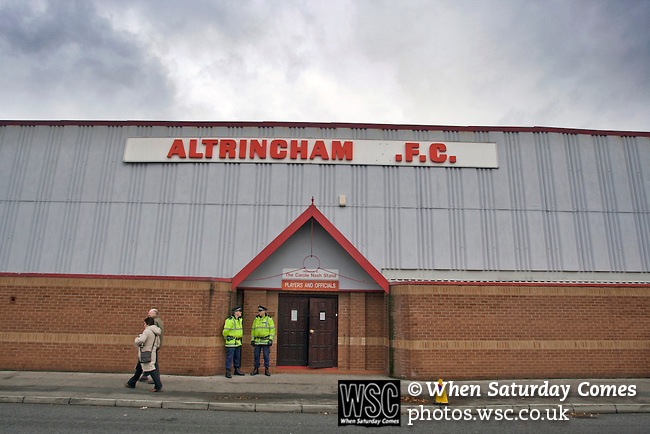 Fans of the National League North club, who are 14 points adrift of safety, will leave their match against Stalybridge Celtic after 15 minutes
14 March ~ A group of Altrincham supporters will walk out of their match this Saturday after 15 minutes, in protest against chairman Grahame Rowley. The Robins are second-bottom of the National League North, 14 points from safety, and almost certain to get relegated this season. Having been comfortably mid-table in the National League two years ago, they are now at the lowest point in their 114-year history and fans want to show the chairman that enough is enough.
After 15 minutes of their match against Stalybridge Celtic the disgruntled supporters, who are annoyed at being ignored by their club and were dismissed as an "angry minority" in a recent strategy review by the club's board, will withdraw their previously vocal support and exit the stadium. They argue that it is the only way they will be taken seriously, saying that previous complaints at fans' forums, as well as on the terraces and message boards, have not worked.
The group say that mangers have been poorly selected over recent years without a full and proper recruitment process. They are calling on Rowley to step down so that supporters can united behind a new chairman when they begin next season in the seventh tier.
A spokesman for the supporters' group said: "This is our way of making our point, in a peaceful way, with no negative financial impact on the football club. It has reached a point where there is no way back for the current chairman and we call on other Alty fans to join us.
"We hope this public protest by a visible proportion of the fanbase gives local business people and potential investors the confidence to come forward with a credible plan to take us forward, and gives them the assurance that the fans do indeed want change.
"Despite our current difficulties on the pitch we still represent a fantastic proposition for any potential chairperson to come in if only the current chairman would announce his intention to stand down and allow such individuals to come forward, change the direction of the club and get us back to where this football club belongs."
You can keep up to date with the campaign by following @GoodbyeRowley on Twitter.
Photo by Colin McPherson/WSC Photos: The exterior of Moss Lane, home to Altrincham