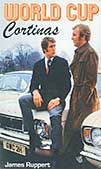 by James Ruppert
Foresight Publications, £9.99
Reviewed by Tom Lines
From WSC 329 July 2014
In 1970 the Ford Motor Company loaned every member of the England World Cup squad a car ahead of the forthcoming Mexico World Cup. With the exception of Jack Charlton – who requested a Ford Zodiac because he needed a bigger boot for his fishing tackle – they each received a Cortina 1600E. This is the story of how motoring journalist James Ruppert sets out to track down the 24 original "World Cup Cortinas".
Except it isn't. That element takes up a single chapter. The rest of the book involves something far more remarkable: someone who confesses to knowing very little about football writing quite a long book about football. Alarm bells begin to ring as early as the contents page ("it's end-to-end stuff!") while by the introduction the author appears to be having a full-blown crisis of confidence, admitting: "If you like football, there isn't nearly enough detail, informed comment, or analysis about the game. If you like cars, well there is far too much football not nearly enough nitty gritty about camshafts… I'm not sure who will enjoy it really."
The problem is that while Ruppert's quest is a perfectly good idea for an article or photo essay there is nowhere near enough material for a book. His solution is a 200-page digression – a "social history" of football viewed through the cars that players drive. His conclusion? As footballers became better paid they could afford more expensive cars.
This might not be such an issue if the book was engagingly written but the prose is pitched awkwardly between lads'-mag insouciance and the nostalgic banality of a Saint & Greavsie annual. So while readers will be unsurprised to discover that George Best had "brooding good looks" but was "deeply flawed", some bits simply make no sense at all. "Mark Hughes was a great leader on the pitch and he certainly needed a commanding one off it, hence the Range Rover Vogue SE." Eh? At one point he questions the reliability of a source because they spell Nobby Stiles's name incorrectly. In a book that introduces us to "Cristano Renaldo" that takes a certain amount of nerve.
Occasionally the author moves disastrously into the world of opinion. So we learn that "if fate had not intervened it is more than likely that Duncan Edwards would have been part of an England victory in the 1962 World Cup, led them to the title again in 1966 and made it a hat-trick in 1970". Even this starts to sound like a trenchant insight compared to his baffling description of the "supremely talented" Jody Morris.
As if to reinforce the lightweight nature of the concept, Ruppert manages to sell it to The One Show as a five-minute TV feature. In the big finale, Franny Lee is reunited with his restored car in front of an expectant camera crew, before spoiling things by admitting that it was actually his wife who drove the Cortina because he had a Jag. It's a fitting end to a book that is fatally underpowered from start to finish.