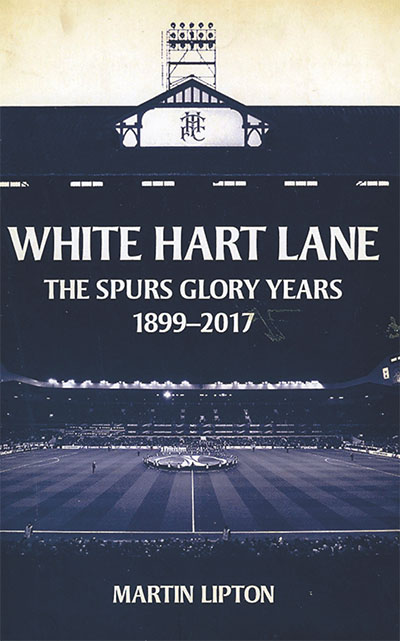 W&N, £20
Reviewed by Annelise Jespersen
From WSC 373, March 2018
Buy the book
"The catering arrangements here are the finest on any sport ground in Great Britain. When you enter either of the restaurants you will find yourself in such surroundings that you will imagine yourself in a West End establishment."
This might sound like marketing blurb for Tottenham's new ground, with its cheese room and Roux Family menus, but it's actually celebrating White Hart Lane's East Stand when it opened in 1934. That East Stand, and especially its unique Shelf terrace, was White Hart Lane's identity for more than 50 years, until the Shelf was replaced with corporate boxes and a "ledge" in the 1980s. It's mentioned regularly in this book, its importance emphasised by supporters, managers and players.
But there's a generation of Spurs supporters who never saw it, never even knew White Hart Lane with terraces. Every stand has been rebuilt since I saw my first game there in 1979. One old fan, returning for one final visit last season, said the ground "was nothing like it will always be in my mind, because it had already changed so much".
So what makes a ground unique or special, despite changes and revamps? Martin Lipton tries to convey this in an engaging part-history, part-tribute, part-memoir to commemorate the end of White Hart Lane. He draws on interviews with players, managers, supporters and staff, his own experiences as a fan and football reporter, as well as a decent bibliography, to take us from 
White Hart Lane's origins on a piece of land at the back of the White Hart pub to the emotional farewell.
The book covers a lot to make a Spurs supporter happy: Arthur Rowe's push and run side; the Bill Nicholson era; the European nights when the ground was at its pulsating best; the Keith Burkinshaw years; David Pleat's many roles during his long association with the club; Harry Redknapp winding his car window down for the last time; the club's tradition of creative players, often shining in a sea of averageness; former players who still clearly love the club. My own favourite, Steve Perryman, refers to White Hart Lane as "nitty-gritty… a non-glitzy working class place… where dreams are made true".
The book also reminds us of the unhappier themes in Tottenham's mixed history – managers and players treated badly, failure to invest at crucial moments, inexplicable boardroom decisions. Former owner Irving Scholar is given too many pages to justify himself, while the subsequent Alan Sugar years are summed up by journalist Gerry Cox lamenting the difficulty of writing five upbeat articles a month for the club newspaper. There were many, many times when White Hart Lane didn't feel special at all.
There are some nice anecdotes from the press box, and stewards and groundsmen also give their unique perspectives. Some supporters might remember Ian Walker's rueful expression when a weak shot from Steve McManaman hit a divot and bounced over his dive – groundsman Darren Baldwin reveals that he went home after the game fearing he'd be sacked.
The final words should be left to a supporter, though. Alan Fisher neatly sums up part of what makes a ground special, and why there was so much relief when Tottenham's interest in the Olympic Stadium site came to nothing: "For over a hundred years, every single Spurs fan has walked the same streets, walked down the High Road. That is such an important thread."
Lipton's book will help keep Spurs supporters warm until the return to those same streets next season.