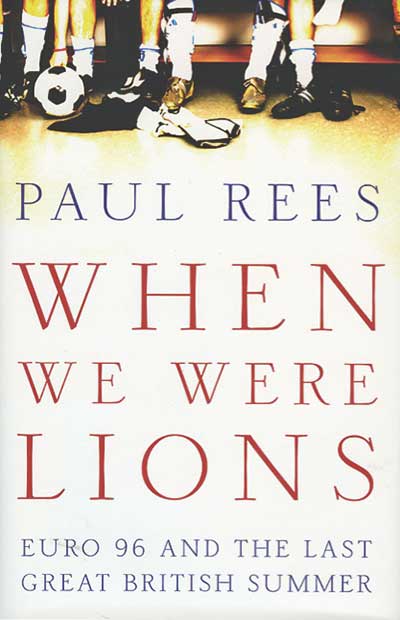 Euro 96 and the last great British summer
by Paul Rees
Aurum, £18.99
Reviewed by Si Hawkins
From WSC 353 July 2016
There's something oddly masochistic about our ongoing desire to wallow, at length, in massive disappointments. This book may well be one too, for those attracted by the title: 311 pages long, its Euro 96 coverage ends on page 189, which may come as a surprise. But then When We Were Lions isn't strictly a football book.
This is a sportier take on Bill Bryson's 2013 epic One Summer: America 1927, his account of a US enthralled by new possibilities after Charles Lindbergh's Atlantic crossing. Paul Rees tries something similar for the summer of 1996, weaving in Cool Britannia, Britpop and all that with England's Euro adventure as a suitably aspirational centrepiece.
Unfortunately, where late-1920s America threw up umpteen little-told stories, Britain in 1996 is all too familiar. Indeed, for many of us it was the last bad British summer, before the regime change of May 1997. June 1996 saw jingoistic newspapers spouting anti-German propaganda (for which Mirror editor Piers Morgan was "severely rebuked", Rees reports, and so forced to abandon plans to "hire a tank and drive it to Germany"), swiftly followed by post-elimination hooliganism. Not great.
The author's wider research does throw up some interesting nuggets. The diaries of Labour's Alastair Campbell reveal genuine concerns that an England triumph would bolster the incumbent Conservative government: "For political reasons, I found myself rooting privately for Germany." Many of the lengthy non-football asides here are likely to bemuse anyone who bought this book hoping for a full-on Euro 96-fest, however. The section about Oasis' huge Knebworth gigs begins with a curiously Bryson-like digression about Knebworth House: "First built in 1490, and redeveloped in a Tudor Gothic style…"
This is largely a nostalgia trip rather than a high-concept attempt to contextualise that tournament – Euro 96 was hardly punk 1976 – and most of the book's fresh insights come from interviews with familiar sportswriters. It's diverting but also a missed opportunity, as the "last great British summer" angle masks an interesting overall theme: that mid-1996 was the end of a damagingly decadent era.
Rather than Britpop's high point, Knebworth was the last hurrah for Oasis' honeymoon period, their cocaine-addled third album earning a critical kicking. The sleaze-damaged Tories would soon be routed. Meanwhile England's national footballers were behaving like Motley Crüe: ripped, booze-drenched shirts in a Hong Kong bar, smashed aeroplane TVs and a nightclub-owning gaffer whose key men were two barely functioning alcoholics.
Despite the title, the real meat of this book – and particularly that post-tournament pagination – centres on the sordid off-field activities of Paul Gascoigne and Tony Adams; it's extraordinary to think that such self-sabotage was still sustainable in the Premier League era. But not for much longer. By October 1996 Adams was sober, Arsène Wenger had arrived in London and British football embarked on a healthier future. When we were lions? Or the last roar of footballing dinosaurs?