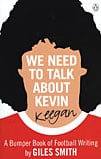 A Bumper Book of Football Writing
by Giles Smith
Penguin, £7.99
Reviewed by Terry Staunton
From WSC 262 December 2008
Giles Smith's regular column for, and other contributions to, the Times are blessedly free of the piousness associated with the majority of self-appointed Fleet Street sages, who purport to articulate the voice of the stands while sat smugly in the press box. A Chelsea season-ticket holder for most of his adult life, the bulk of his exposure to "live" football is consequently largely restricted to watching one team, which means, like the rest of us, he gets his broader fix from TV.
It's via this medium that Smith witnesses the pratfalls and preening of those who either play or administrate the game, as well as the often comical way in which the people charged with presenting football to the masses choose to deliver the message. In that respect, his newspaper work tells us as much about the media as it does the sport.
More than a few inclusions in this anthology would not have seemed out of place in Charlie Brooker's Screen Burn columns in the Guardian, although there's less savagery to his satire than Brooker's. He betrays an underlying affection in his ruminations on the movie career of Vinnie Jones or Lee Sharpe's seemingly unquenchable thirst for reality shows (a shout-out to Graeme Le Saux here also), saving his most barbed remarks for the hapless souls in the commentary box, or the syntax-twisting ex-pros sat splay- legged on the Match of the Day sofa.
Smith has a great knack for picking up on the tiniest snippet of "news" and milking it for pails of humour (on learning that Sam Allardyce paid ten grand for Glastonbury tickets at a charity auction, he maps out an entire summer of festival-going for the erstwhile Bolton boss), but it's not all pointing and laughing. Figures such as Graham Poll, Richard Scudamore and Sepp Blatter are comedy gold for a suitably sharpened nib, yet Smith is more than capable of making serious points about their shortcomings and the harm they threaten to visit on the game. Blatter, in particular, is rightly hauled over the coals, only belatedly salvaging some of his reputation with a dismissive reaction to the "39th match".
The pettiness of a diehard fan occasionally, and perhaps inevitably, rears its head when having a pop at Liverpool or Manchester United, but it's redressed by 'fessing up (in print!) that Stamford Bridge isn't always the utopia the average Shed End inhabitant would have you believe. Ultimately, it's this matter-of-fact honesty and common sense that impress, the absence of a blinkered personal agenda to taint a series of well ­considered insights.
It's unlikely every reader agrees with ­every­thing Smith has to say about football, but his analyses of (to borrow a phrase common to TV) water-cooler moments are as thought-provoking as they are witty. Never does he claim to have all the answers, though his solution to Steve McClaren's selection nightmare of four of the national team getting hitched over the same weekend is awe-inspiring, the work of a master tactician.