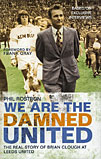 The Real Story of Brian Clough at Leeds United
by Phil Rostron
Mainstream, £12.99
Reviewed by Duncan Young
From WSC 273 November 2009
The spine of this book by experienced Leeds United journalist Phil Rostron promises "the real story of Brian Clough at Leeds United". The title and timing suggest that inside the reader will discover truths that were glossed over by David Peace in his dramatisation of that famously short tenure.
However, the foreword by Frank Gray, a defender Clough inherited at Leeds and later took to Nottingham Forest, turns out to embody the whole project in that it restates well-known facts, draws back from offering any significant new insights and spends a good deal of its time wandering off the point. In fairness to the author, in his own introduction he is pretty upfront about what you're going to get: "My aim is simply to discuss the details of Brian Clough's 44 day reign at Leeds United with many of the players who were there at the time… simply to discover what the men… thought of the situation and how they reacted to it." It transpires that the discussion will be heavy with anecdotes and light on analysis. A 30-page preamble tells stories about Leeds managers before Don Revie. We then hear of Clough's pre-1974 football career and various Leeds players being "shocked" but "not surprised" when successful father figure Revie is offered the England job. The book then finally rattles into life with Peter Lorimer's tale of Clough bad-mouthing him at a local awards ceremony.
But things suddenly take a curious twist as Rostron introduces us to key witness Hugh McIlmoyle, who played for umpteen clubs, but not Leeds and never under Clough, but can offer insight into Clough's "unique and unequivocal style" because he is "someone who knew by word of mouth about this reputation". Similarly tenuous connections to the matter nominally at hand see plenty of room given to recent Leeds manager Peter Reid, Forest journalist Duncan Hamilton and television presenter Gary Newbon, though Jimmy Armfield's contribution as Clough's immediate successor is welcome.
If you can suppress the urge to tell Mr Rostron to get to the point and stay there, you are rewarded with a few worthwhile cameos. Terry Yorath embarks on a revealing quest for a promised payrise, new signing Duncan McKenzie wins the boss's trust by giving as good as he gets, while the players mutiny at a pre-match team-talk delivered on the central reservation of a dual carriageway in the rain. A picture emerges of how Clough could work with independent minds who needed to make their way, but was less suited to those with impressive playing credentials.
The finest passage the book has to offer is a lengthy article by Don Revie unearthed from the 1970 Park Drive Book of Football. Revie's opinions on the importance of players' behaviour and attitudes away from the field of play make fascinating reading, especially with the benefit of 40 years of hindsight. The reports from Clough's often ignored actual matches in charge at Leeds are interesting also, but are joined by too many more extracts from diverse publications that do not really add anything. Given the author's fine work on the Peter Ridsdale era that he himself witnessed at close quarters, one is sadly left with the impression that the material for some promising feature articles has reached the shelves in the wrong format.