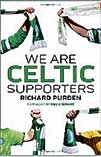 by Richard Purden
Hachette Scotland, £8.99
Reviewed by Jonathan O'Brien
From WSC 311 January 2013
Even Celtic supporters – some of us, anyway – are often irritated by the self-mythologising flannel regularly parped out by sections of the club's fanbase. "A cause", "a rebel club", "different": all these claims are routinely made, with not very much at all to back them up. At face value, Richard Purden's collection of interviews with Celtic fans – some famous, some not – looks like an attempt to perpetuate this sort of empty puffery. There's more to it than that, though, and Purden shows plenty of imagination in his choices of interviewee. One of the best chapters in the book is a conversation with Roberto Longobardi, a longstanding Celtic fan from Rome who is so dedicated he visited the grave of Johnny Doyle, a winger who died aged 30 in 1981, during an away trip to Kilmarnock.
Longobardi cannot stress enough how much he detests the "shameful" Paolo di Canio, who is still held in high regard by a lot of Celts. "The only thing worse than a mercenary is a fascist," he says. "We shouldn't celebrate Di Canio's time at Celtic because the Nazis and the Holocaust still hang over us." He also tells Purden that Enrico Annoni, a "very good servant", took the time to learn about the club's history; unlike Massimo Donati, who, when unable to answer Longobardi's questions about Celtic, mumbled sheepishly: "I don't live in Glasgow."
Simple Minds frontman Jim Kerr contributes a predictable but entertaining fusillade against the commercialisation of modern football, noting that "we know far too much" about the players' wage packets and wives. He likens a pre-game ritual to a pre-gig one, not wanting to let the people down. Eddi Reader of Fairground Attraction tells how she tracked down her father's old Rangers-supporting friends in a hardcore Bluenose pub. Composer James Macmillan's heartfelt declaration that Catholicism is intrinsic to understanding the whole Celtic thing might raise eyebrows among those who regard the club as open to all.
Pat Nevin's is the most distanced perspective, having started off as a Bhoys fan and ended up following Hibs. For some reason, he detests Martin O'Neill's hugely successful 2000-05 side, deriding them as unwatchable and a "slightly more sophisticated version of [Wimbledon]". Nevin claims incorrectly that the gifted Lubo Moravcik was frozen out: in fact, Moravcik played in two-thirds of league games under O'Neill then retired, not because he had been pushed to the margins by beefy-thighed warriors, but because he was 36 years old.
A few errors have slipped through, such as when Purden writes that Dermot "the Kaiser" Desmond is worth "145 billion euro", a decimal point having vanished two points to the east at the crucial moment. He goes on to say that a "financial stake in Celtic isn't just business". Gordon Strachan, who was crucially denied the £800,000 required to sign Steven Fletcher in 2009, might disagree. Those aside, this is a diverting enough read, even if a number of the contributions stray the wrong side of maudlin, uncritical adoration.