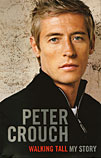 My Story
Hodder & Stoughton, £18.99
Reviewed by Tim Springett
From WSC 250 December 2007
Did he think of that title himself or pay someone else to come up with it? Whichever, it's apt, of course – the subject is so tall that he doesn't even fit in the frame for the book's front-cover photo. Peter Crouch is a player who – as he reminds us frequently – has had to work harder than many to prove himself. I wondered whether he would show similar dedication to his autobiography, which he has had published at the tender age of 26. Well, actually, he hasn't done too badly.
As the story explains, he learned at an early age to let the comments of those who, with varying degrees of politeness, have doubted the ability of someone with his build to be a highly skilful and successful footballer wash over him. He had firm ambitions as a youngster to become a professional and references to his goalscoring exploits in junior football are intermingled with tales of how his father would get him up each morning to practise his skills and still get him home in time for breakfast at 7am. Whatever Peter may have been thinking then, he's grateful now.
Many will enjoy reading about Crouch's travails at his early clubs. Games of eggyboff (don't ask) are interspersed with his constant battles to prove his worth. Few players have divided opinions as much as Crouch has. Clearly it didn't help that at some clubs, most notably Villa and Southampton, the managers who signed him were quickly replaced and the new incumbents, David O'Leary and Steve Wigley respectively, were dismissive. Nor that he was welcomed on to the pitch for his third England appearance (against Poland at Old Trafford) by a chorus of booing. But he has succeeded and you feel pleased for him that he has.
However, more than a third of the book is devoted to his career since he joined Liverpool in 2005. It's true that this coincides with his full international career to date, but it says a lot about the state of the market for football books at present. To begin with, the section is capable of holding the reader's interest as Crouch admits how desperate he had become as a result of his first 18 goalless games for the Reds – even going to such lengths as seeking a meeting with members of the dubious goals panel to put his case for deserving to be ­credited with a particular effort.
However, just as Crouch is getting his Liverpool and England career on track, the book goes rather off the rails – an entire chapter is devoted to the robotic dance, while another is called simply "the parrot" on account of his wearing a parrot costume to the LFC Christmas party. By the final few chapters, the book has turned into a chronological run-through of the fixture list and how Crouch felt disappointed on each occasion that he was rotated out of the starting XI.
Nevertheless, he comes across as a likeable man who appreciates what he has. And why not? He has worked for it.