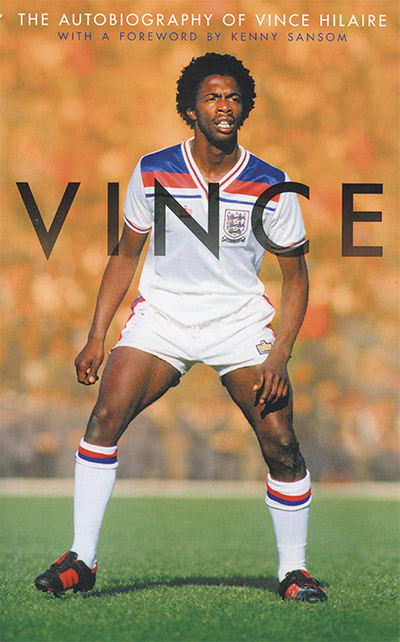 by Vince Hilaire
Biteback Publishing, £12.99
Reviewed by Matthew Barker
From WSC 376, June 2018
Buy the book
In a recent interview, Vince Hilaire conceded that he could have given more space in this autobiography to the racial abuse he was subjected to as a young black footballer in the late 1970s and beyond. Maybe so, but the stories he does tell stay with you, not least his memories as a teenager sitting in the Anfield changing rooms. Then he dreaded having to go out and warm up with his Crystal Palace team-mates, knowing the reception he would receive from the, at the time, notorious Liverpool fans.
A latecomer to the game, Hilaire was inspired after watching Laurie Cunningham at Leyton Orient. While he lacked the future West Brom star's strength and elevated skill, Hilaire shared Cunningham's pace and trickery out on the wing and was soon picked up as a schoolboy by Palace.
Manager Malcolm Allison was on a mission to emulate Busby's Babes, demanding first-class travel and accommodation for a promising crop of youth players, while senior pros muttered over their card games on a tatty team bus. Palace's young charges were coached to always play out from the back, to watch their diet and to switch off Match of the Day and read copies of World Soccer instead. It worked, for a while.
However, by the time Hilaire, Kenny Sansom, Peter Nicholas and the rest were ready to step up to the first team and a promotion chase Allison had gone, replaced by his protégé Terry Venables. Infamously baptised the Team of the Eighties on the eve of a heavy defeat to Liverpool, a promising side quickly fell apart. Most see the selling of Sansom to Arsenal as a turning point, but Hilaire believes the younger players were too pampered, lacking fight and not knowing how to react when things stopped going their way.
While Palace fans of a certain age will find tales of buying soul records with that old smoothie Jerry Murphy the perfect catnip, there are far more anecdotes here about Hilaire's time at Portsmouth, who he joined in 1984 after a short stint at Luton. Pompey were a full-on party club and Hilaire settled in right away, drinking to excess for the first time and clearly loving every minute.
In keeping with the spirit of this highly likeable book, there's no retrospective moralising here, no great gossiping (maybe a bit; some of the Alan Ball stories are bone-shakingly funny) and, despite his career rather hitting the buffers after a disappointing spell at Leeds, little in the way of bitterness or regret, not even when looking back on a thundering personality clash in West Yorkshire with Howard Wilkinson. Instead there's an honesty about his failings as a player and occasionally as a man, but mostly there's a wry smile. Hilaire was just 32 when he retired, though not before Ball fixed him up with a lucrative summer gig as a Butlins red coat.
Before last month's Brighton game they announced over the Selhurst Park PA that Vince was making an appearance. Queuing up to get in, a 50-something fan behind me wistfully sang to himself, "He's here, he's there, he's every fucking where, Vince Hilaire…" only to get a telling off from his teenage daughter. "Oh blimey sorry," smiled the embarrassed father. "Forgot myself for a moment there."