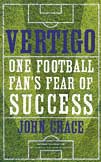 One Football Fan's Fear of Success
by John Crace
Constable, £12.99
Reviewed by Nick Dorrington
From WSC 296 October 2011
Very soon into their life every Tottenham supporter is indoctrinated in the "Spurs way" and told stories of the brilliance of the Bill Nicholson-led 1961 Double-winning side of Dave Mackay and Danny Blanchflower, Cliff Jones and John White. To correlate this glorious past to teams featuring the likes of Jason Dozzell, Ramon Vega and Timothée Atouba is a task beyond all but the most blindly loyal.
Thus most have been forced to embrace the ridiculousness and hilarity of a team that allows three-goal half-time leads against ten men to slip, that fails so often from the penalty spot and that collectively falls fell of food poisoning when the Champions League seemingly awaits. So how do they react when the team suddenly starts winning? That is the question posed in John Crace's Vertigo, as the author follows the fortunes of his beloved Spurs through the 2010-11 season, one that finally saw Champions League football at White Hart Lane and brought with it plum ties against AC Milan, Inter and Real Madrid.
Crace is a Spurs season-ticket holder – and avid collector of old programmes and tickets, among other trinkets – and clearly holds the club dear to his heart. Unfortunately this doesn't come across as well as it might in the early chapters as he rambles along like your drunk mate at the pub after a match, tenuously linking topics together in an attempt to blurt out as many of his thoughts and feelings as possible.
When focus comes to his writing the book is all the better for it, and stories of his childhood, of the ludicrous money he has spent on his collection of Spurs artefacts, and of his mate Matthew's strange obsession with 1970s soft-rockers Journey combine with tales of the club's disappointing domestic performances to form a highly readable core.
A depressive personality, Crace is never far away from the next downturn, and even in moments such as trips to the San Siro and the Bernabéu that are the defining points of Tottenham's season he is never too far away from bouts of melancholy. Faux negativity is something many a Spurs supporter will have used as a defence mechanism against the cock-ups that are all too common down at the Lane. But Crace is genuinely pessimistic ahead of almost every match, and rather than take sadistic pleasure out of defeats or the myriad of dull away matches he makes the effort to attend, he instead gets genuinely downhearted when things don't go his or the team's way.
There are some interesting moments. Crace speaks eloquently on the futility of being a supporter, and his stories of away day trips and arguments with his wife are highly amusing. But the book is so often bogged down by the depressive mood that prevails through the majority of Crace's writing that it is hard to truly appreciate the good moments. Early in the book he tells us that his wife has grown bored of his propensity to discuss his feelings. By the end most readers will feel exactly the same way.