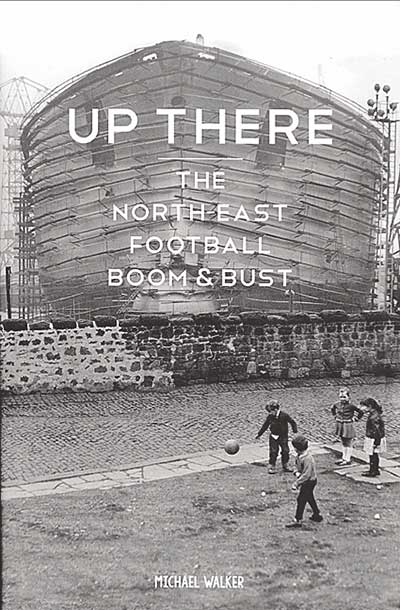 The north-east, football, boom & bust
by Michael Walker
DeCoubertin Books, £16.99
Reviewed by Paul Brown
From WSC 334 December 2014
In 1960 the BBC journalist Arthur Appleton wrote a still-admired portrait of north-east football called Hotbed of Soccer. The title was apt, the book being published between Jackie Milburn's Newcastle winning the FA Cup three times in the 1950s, and Bobby and Jack Charlton's England winning the World Cup in 1966. The north-east had long been regarded as football's great nursery, producing a succession of fine players and 
influential managers.
Yet Appleton recognised that the area's influence on British football was waning. Its clubs were in decline and its players were leaving the region. As cases in point, Newcastle have not won a domestic trophy since the 1950s, and neither Charlton brother played for a north-east team. Even from his 1960 vantage point, Appleton was inclined to look back. "When the present has been temporarily exhausted, there is the rich past to be peeped into," he wrote.
Fifty-four years later, Michael Walker explores that rich past, and the unavoidably depressed present, in Up There, an excellent and long-overdue social history of north-east football. From the game's earliest years, Walker shows how the industrial north-east established itself as a football powerhouse. Cash-rich Sunderland won the Football League four times by 1902 and innovative Newcastle won the League three times, and the FA Cup, by 1910. There was a seemingly infinite stream of great players, from Colin Veitch, Raich Carter and Wilf Mannion to Stan Mortensen, George Camsell and Stan Anderson (who, uniquely, captained Newcastle, Sunderland and Middlesbrough).
Some became great managers. Brian Clough and Don Revie both grew up in terraced houses in Middlesbrough. Bob Paisley and Bobby Robson, like many of the region's most prominent football characters, came from mining communities. As Walker discovers via a series of insightful interviews, mining and other industries were central to the success of north-east football, providing structure and stability for community teams and local players. When north-east industry took hits, so did north-east football, particularly after the wars, and then, fatally, during the brutal 1980s.
The 1990 World Cup represented something of a last hurrah. England's starting XI included four north-east players in captain Bryan Robson, Paul Gascoigne, Peter Beardsley and Chris Waddle, plus manager Bobby Robson. By the 2014 World Cup, England's sole north-east-born starter was Jordan Henderson. Henderson is one of the few remaining north-east players in the Premier League, with Steve Bruce the only north-east manager.
The decline of north-east football at all levels is well illustrated when Walker presents Durham FA secretary John Topping with a 1983-84 yearbook, and asks what has happened to its list of 16 youth leagues. "Gone. Gone. Gone…" replies Topping. Only two of the 16, he explains, are still around.
Walker does manage to find some causes for optimism. The pioneering Northern League is celebrating its 125th anniversary this year, Gateshead are pushing for a return to the Football League and Middlesbrough are challenging for promotion to the Premier League. At junior level, Northumberland's Pinpoint League is thriving, catering for 12,500 young players. "It's a mini-revival," the Pinpoint League's Ian Coates tells Walker. "In five years' time I think what you'll see are more local boys and better local boys playing for the big 
north-east clubs."