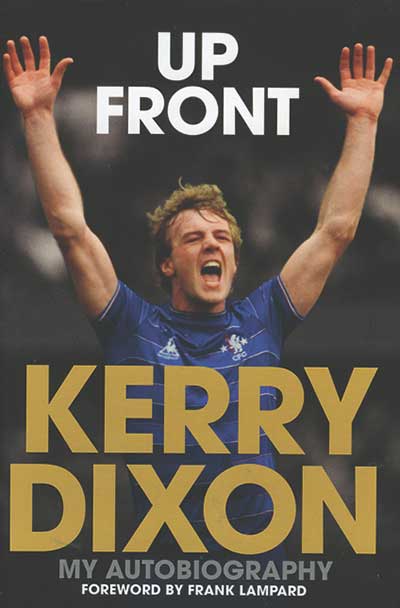 with Harry Harris
John Blake, £17.99
Reviewed by Mike Ticher
From WSC 359, January 2017
Buy this book
In the epilogue to this unhappy tale, Harry Harris proudly notes that he has written more than 70 football books. Maybe it's time he stopped.
Not that this is terrible. Kerry Dixon's story of a career that collapsed into gambling addiction, business failure and a prison sentence can hardly fail to be engrossing to a certain degree. But if the narrative arc is depressingly familiar, so is the inadequacy of the form Harris has mined for so long.
Essentially, the first half is the football: early rejection by Tottenham and Luton, success with Reading and Chelsea, a bit part at the 1986 World Cup, then mostly disappointment and decline. The second part is the demons, above all Dixon's destructive gambling habit.
This treatment leaves a huge hole, which becomes briefly visible on page 210 (out of 234). Dixon says: "I had been with Michele for 28 years. She was the mother of my three kids, and I was determined to try to maintain a good relationship between us all." Wait, what? You've taken us through this whole catastrophe, and now you introduce your partner of 28 years and three children?
It's hard to know who is to blame for mislaying this part of the story, but Dixon comes across as an emotional baby. And it's not just the failure to acknowledge his family. He accepts responsibility for everything in one breath, only to find excuses the next. Chelsea send him to an addiction clinic but he quits after three visits because "it didn't seem to work". Later the club cut him from their TV channel when he is charged with supplying cocaine, even though the case is dropped ("so unfair").
Dixon seems far from a malicious character, but he has a rare gift for finding trouble and making terrible decisions. He is prone to punching people, including David Speedie and Vinnie Jones. Any time he misses a game or reads transfer rumours he becomes paranoid that unknown forces are conspiring against him. "My dark thoughts just showed my insecurity," he admits. Things go on behind the scenes that he cannot fathom. "I have my suspicions about the political intrigue," he says of Chelsea's apparently baffling decision to sell him after the 1991-92 season, when he scored five league goals.
When he stops playing, everything gets worse. He takes a job as manager of Doncaster under "benefactor" Ken Richardson ("once again I didn't do my homework"). When that doesn't work out, he accepts an invitation to run a pub from the equally dubious former football club owner Anton Johnson. What could possibly go wrong? Almost everything, obviously, including a brawl in which Dixon is glassed, an introduction to coke through a mysterious character known as "the Dude" (seriously, you couldn't make it up), bankruptcy and eventually jail for assault after another late-night fracas.
Harris notes that Dixon has had "a tough nine months" since coming out of prison last year. It's not hard to believe. For all the omissions and low-level whining, it cannot have been easy for him to talk through this wreckage. But on Harris's version at least, you have to wonder whether he has gained enough insight and resilience to avoid further calamity.