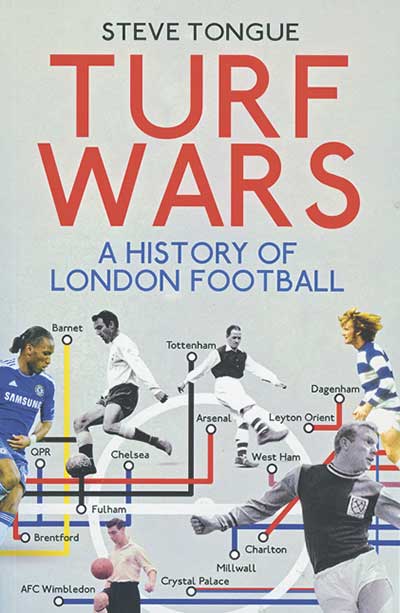 Pitch Publishing, £9.99
Reviewed by Si Hawkins
From WSC 360, February 2017
Buy this book
History may teach us the mistakes of the past, but preventing them from happening again isn't easy; in politics, clearly, and football too. Even in the early chapters of this book some painfully familiar subjects loom up: shady agents causing havoc, controversial stadium moves and lots of unsuitable owners. A pre-war 6.06 might well have sounded oddly similar.
Turf Wars is a solidly researched trawl through the histories of every London club to have played in the professional leagues, beginning with the FA's first stirrings in 1863 and finishing close to the present day on Wimbledon's promotion and Antonio Conte joining Chelsea.
The book hardly has a happy ending, though. The perennial big clubs – Arsenal, Tottenham, Chelsea, West Ham – may now be more successful than ever, but several of Turf Wars' other major protagonists – Charlton, Leyton Orient and QPR, arguably – are currently enduring declines under erratic owners. The exploits of Ron Noades here – picking Brentford's team; winning manager of the year for a fourth-level promotion – inspire almost nostalgic affection, by comparison. Almost.
Noades is one of several characters who reoccur in these pages, but the author hasn't the space to dwell on most of them. It must have been tempting to go on longer on, say, Hughie Gallacher, Chelsea's Scottish striker of the early 1930s ("a more talented David Speedie", Tongue suggests), but in the same era Millwall are moving to New Cross and already ruffling feathers. "Sensitive players, often with better skills, are too easily scared by their rough play," wrote one unnamed, undated Chelsea player, who was also perturbed by Lions fans "jeering at the away team".
Tongue just about gets the balance right, not keeping this complex history strictly sequential, but jumping back and forth, team by team, era by era, from the Gunners to the O's. Clubs that arrive in the League later turn up later here too, and there's an enjoyable interlude about notable non-League sides (impressively, he squeezes the bewildering Enfield saga into a paragraph). There's also a diverting chapter about wartime football and the League restructures that must have baffled everyone involved.
In the early stages Tongue is a little hamstrung by the sheer number of clubs he needs to cover, and at times it's easy to lose track of which one he's actually talking about. The pace and interest pick up as those stories become more current and colourful though, and even football history buffs should discover something. I didn't know about a couple of seemingly deal-sealing handshakes, for example: Hamburg's Kevin Keegan allegedly agreeing to join Chelsea and Aberdeen manager Alex Ferguson doing likewise with Spurs.
Turf Wars is a laudable, increasingly enjoyable endeavour and the author knows his stuff. If there's a criticism, it's that he rarely adds personal reflections, hence the 300-pager is low on humour, apart from the odd unintentional titter. Describing modern-era West Ham, Tongue reaches the Davids, Sullivan and Gold, "whose fortunes were made in the sex industry". Which is accurate, of course, but could really do with some clarification for less worldly readers, lest they have horrific nightmares.