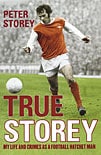 My Life and Crimes as a Football Hatchet Man
by Peter Storey
Mainstream Publishing, £16.99
Reviewed by Jon Spurling
From WSC 287 January 2011
Arsenal's Double triumph in the 1970–71 season garnered few of the plaudits which Tottenham had received ten years earlier after winning both the Championship and the FA Cup. Critics insisted that Charlie George (who was injured for much of the season) and George Graham aside, the team was overly functional and, to put it bluntly, dull. No player appeared to typify the Gunners' distinctly blue-collar, often attritional approach better than midfield enforcer Peter Storey. Granted assorted nicknames during his career, including "Cold Eyes" and "Snouty" (due to his ability to "sniff" out weaknesses in the opposition's midfield), former Chelsea skipper and fellow 1970s hatchet man Ron "Chopper" Harris recently labelled Storey "the bastard's bastard".
According to ex-Gunners boss Bertie Mee, Storey rarely uttered more than a couple of words throughout the week, before miraculously transforming himself into a snarling beast on Saturday afternoons. His notoriety increased after he retired from football, when he became involved in (as it turns out) half-baked vice, porn and counterfeit gold sovereign rackets, and spent time in prison.
Since his last brush with the law in 1990, when he was jailed for four weeks for attempting to smuggle in a load of hardcore porn via Holland in his the spare tyre of his Jeep, Storey virtually disappeared. There have been false sightings of him at the Emirates (the last Arsenal game he attended was at Highbury nearly five years ago) and a while back there was even an online rumour that he'd died, but now he's ready to put the record straight – to a degree anyway. Storey is fairly upfront about his reasons for doing the book; he didn't earn huge sums from the game and three divorces, a bankruptcy and several spells behind bars mean that at 65, he could do with the money. As well as that, he's now found happiness in the south of France with fourth wife Danielle, and after a little prompting has decided that it's finally time to talk.
Storey points out that the main reason for his (frequently) foul moods on the pitch was because, as a full-back by trade, he was frustrated that Mee played him out of position for years. Storey also argues that the majority of successful sides at the time had notorious "enforcers" in their teams, including Tommy Smith, Billy Bremner and Norman Hunter. The difference is that none of the aforementioned players had repeated troubles with the law. He is unflinching in his description of the fallout from his womanising, drinking and illegal activities (he hasn't seen his daughter for over 20 years) and doesn't try to dilute the often unpalatable truth with wide boy humour, which many raffish players of his vintage often do.
His elusiveness has also resulted in his estrangement from the class of 1971; Arsenal's Double winners enjoy regular get-togethers, but Storey has been notable by his absence. He dedicates the book partly to his father Edwin, to whom he apologises for "the shame" and, through finally telling his "Horror Storey" (a tabloid headline which became all too frequent after he retired), it might just be that Arsenal's "black sheep" will be able to find his way back into the fold. True Storey is a touch on the thin side in places perhaps – only one chapter covers his decline after leaving football – but it is powerful and honest nonetheless.