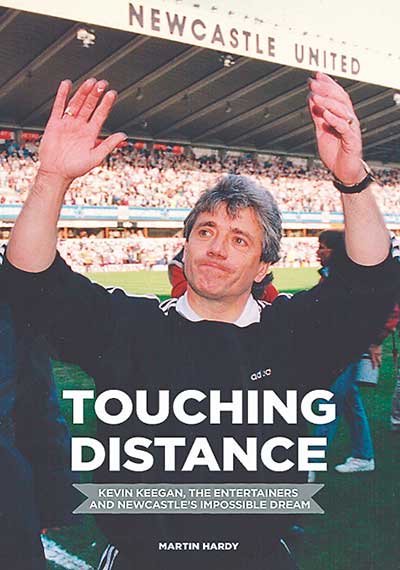 Kevin Keegan, the entertainers & Newcastle's impossible dream
by Martin Hardy
De Coubertin Books, £18.99
Reviewed by Paul Brown
From WSC 345 November 2015
The 1995-96 Premier League season should not be fondly remembered on Tyneside. This was the year that Kevin Keegan's Newcastle United raced to a seemingly unconquerable 12-point lead, only to be ruthlessly overhauled by a formidable Manchester United. Yet it remains an enduringly popular "what if?" subject of conversation among Newcastle fans. It was the closest Newcastle have come to winning the League since 1927 and the team, labelled the Entertainers, were the best the club have had since the 1950s.
Martin Hardy's Touching Distance is an oral history of Newcastle's nearly season, 20 years on, built around a series of interviews with Keegan and his Entertainers, including Peter Beardsley, Les Ferdinand, Rob Lee and Philippe Albert. It's a bittersweet story – and some Newcastle fans may choose to stop reading shortly before the end. But it's also a celebration of a team and a manager that restored pride and belief in a club who were, when Keegan arrived as manager in 1992, on the verge of relegation to the third tier.
Keegan was raised by a Newcastle-supporting father, and wore the black-and-white stripes during the early 1980s. "Having played there for two years I knew exactly what they wanted," he says. "It's very simple really. They work hard all week, they have a couple of brown ales and they want to go to the match and they want to see a team in black and white give everything they've got to win a football match and entertain them."
Such romanticism is typical of Keegan, and viewed by critics as a flaw. But a lot of criticism aimed at Keegan is revisionist and unwarranted. The perception that his attacking team was defensively naive seems particularly unfair, perhaps exaggerated by reruns of the extraordinary 4-3 defeat at Anfield. Over the course of the season, Newcastle conceded only two goals more than Manchester United.
Terry McDermott, Keegan's assistant, describes the Anfield defeat as "fucking sickening". "It scarred Kevin," he says. "I'm convinced of that. It scarred him." Then came Keegan's famous "I will love it if we beat them" outburst, aimed at Alex Ferguson. Pundits said Keegan had cracked, a victim of Ferguson's mind games. "Load of bollocks, absolute bollocks," says McDermott, who phoned Keegan afterwards. "I said, 'What the fuck was that?' He said, 'Ah, sod him.' At the time he didn't really like Ferguson."
Although the title race remained open until the last day of the season, a home draw for Newcastle and an away win for Manchester United gave the latter a four-point advantage, and meant Newcastle finished second. Popular opinion says Newcastle "blew it", but Keegan provides a more reasonable explanation: "Man United were the better team." Winning isn't everything in football, and Newcastle fans should enjoy this entertaining account of a season in which their team ultimately fell short. "With a bit more luck we might have won it," McDermott says, "and Man United wouldn't have missed one trophy, would they?"