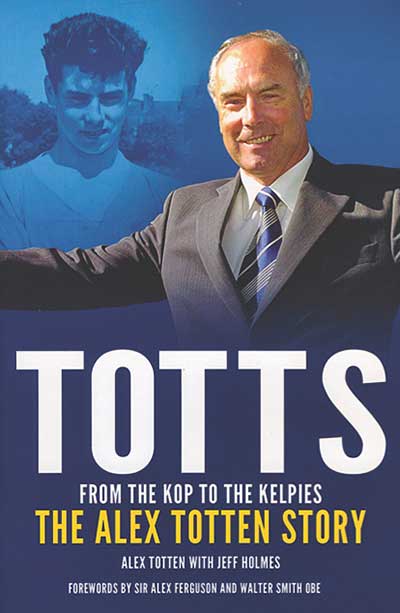 The Alex Totten story
by Alex Totten with 
Jeff Holmes
Pitch Publshing, £18.99
Reviewed by Gavin Saxton
From WSC 344 October 2015
A book whose cover proudly boasts forewords by both "Sir Alex Ferguson and Walter Smith OBE" does not inspire a huge amount of enthusiasm, but this ghost-written autobiography of journeyman Scottish manager Alex Totten is, at least intermittently, more interesting than I might have given it credit for. Ferguson and Smith may have been among the most famous and successful of the remarkable crop of managers that came out of the tenements of Scotland's post-war years, but below them were a whole battalion of irascible, gruff-voiced men who dominated the game while I was growing up. Among this next rank, Totten was one of the more successful.
His playing career was modest – as a youngster in the early 1960s he had been on the books at Bill Shankly's Liverpool but, having failed to make the first team there, he returned to Scotland. There he enjoyed a worthy enough career with, among others, Dundee and Dunfermline, where he played alongside Ferguson, of whom he speaks well. Indeed he speaks well of pretty much everyone, especially at this stage of his career, and projects an affability as a man who is not always easy to reconcile with memories of the perpetually furious manager we used to see arguing with referees on Sportscene. This might just reflect journalistic platitudes, or a degree of self-editing, but by and large he persuaded me that underneath the hard-nosed bluster, his likeability is genuine.
Perhaps managerial success depends in part on being able to produce this disconnect, to be able to separate the personal from the professional in that fashion. And sure enough, on being given his first management job, at Alloa at the age of 34, the first cross words appear. An unfortunate young man called Colin McIntosh becomes the first target if his ire, having been deemed not to have put in sufficient effort during a defeat by Forfar. Within a couple of pages he's confessing to having thrown a pie at a referee in the tunnel after the match – for which he escaped punishment because, as at Old Trafford in latter years, the perpetrator remained unknown. Totten claims, rather unconvincingly, that it was meant in jest. ("I wanted him to enjoy the pie.")
After a brief first spell at Falkirk, Totten became assistant to Jock Wallace at Rangers. As he tells it, he was being groomed to be the next manager, but then the Graeme Souness revolution happened, and Totten followed Wallace out. Unsurprisingly he believes they could have done much more had he been given Souness's funds, but instead he went on to be better known for subsequent creditable spells at St Johnstone, Kilmarnock and Falkirk. During his time at the Saints, a touchline barney with Walter Smith resulted in ejection from the ground and a conviction for breach of the peace (Smith's own charge was found not proven). He continues to protest his innocence.
Totten's book reflects the man: it's not a deep analysis of the problems of the game, nor is it a character study in self-doubt. But despite everything, I mostly warmed to him.