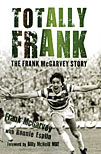 The Frank McGarvey Story
by Frank McGarvey and Ronnie Esplin
Mainstream, £15.99
Reviewed by Graham McColl
From WSC 261 November 2008
In a mid-1980s Celtic programme, Frank McGarvey described himself as an avid viewer of wildlife documentaries – a rare trait in a footballer. Disappointingly, Frank does not elaborate here on that professed love of wildlife. The only animals to feature regularly are horses, done up in racing colours, in which Frank takes an enormous interest while admitting that after decades of betting on them he still knows nothing about the beasts.
Frank's compulsive gambling is the hook for this book and his problems in that area seem a symptom of his character. He was an unpredictable player, who seemed guided by a series of nervous impulses, and, as he travels back through a career in which a series of impetuous decisions impede his life, it is impossible not to cringe. On joining Celtic from Liverpool in 1980 and receiving a huge signing fee, he says: "I had my eye on a big property in Pollokshields that cost about £48,000, a fortune at the time… but it would have left me stretched and I wanted to save some money for gambling – how sad is that? – so we settled for a place in King's Park…" Having made him settle for a home a couple of notches below what he might have been able to afford, eventually gambling loses McGarvey his home and his marriage and he ends up in a "dump of a rented flat with only a mattress for a bed", contemplating suicide.
Frank says that, at the height of his fame at Celtic, he was a Gamblers Anonymous regular. It was at a GA meeting that he encountered a manager from William Hill, who taught him a fraudulent betting-shop scam that eventually won Frank the double of a simultaneous ban from Ladbrokes and William Hill.
There are the de rigueur sideswipes at former associates of such calibre as Alex Ferguson, Phil Neal, Jock Stein and Charlie Nicholas, but Frank, endearingly, doesn't seem to have the heart to put the boot in too hard. He reports a surprisingly high degree of dressing-room bitchiness, especially at Celtic, and Frank can give it out as well as take it. "In my first spell at St Mirren," he writes, "Jimmy Bone complained that he wasn't scoring goals because I was taking too long to get a cross in. All of the other strike partners Jimmy played with must have been the same as me, because he was never a great goalscorer."
Descriptions of life at a parsimonious Celtic provide an element of comedy. "We had no gym so… a group of players were doing sit-ups in the foyer of Celtic Park when Desmond White [the chairman] and some businessmen visiting the stadium passed through and had to step over us." Deadening lists of results do occasionally litter the text and bog down the story, especially when he reaches Celtic, but this tribute to using animal cunning to survive in the football jungle – and beyond – is a more-than-useful guide to life as a player in the pre-corporate, pre-Bosman era.