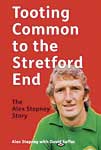 The Alex Stepney Story
by Alex Stepney with David Saffer
Vertical Editions, £17.99
Reviewed by Terry Staunton
From WSC 293 July 2011
On the morning of Manchester United's 1977 Cup final showdown with Liverpool, Alex Stepney left the team's hotel for a stroll and, on coming across a barbershop, decided to get his haircut. As Stepney settled down in front of the mirror, the man with the scissors asked him if he was planning to watch the game later that day, seemingly unaware that his customer was one of English football's most famous keepers.
As an illustration of a more innocent time, when top-flight players weren't shielded from the public by a reinforced cordon of strong-willed managers, agents and PR people, it's a cute little story, one that Stepney himself recounted to the interviewer from ITV's World Of Sport just a few hours before kick-off. Sadly, it hasn't warranted a mention in Stepney's autobiography, a book so devoid of character, atmosphere and emotion that it reads like it was written by a particularly sulky robot.
In footballing terms, Stepney was in a nigh on unique position to experience the highs and lows of the game. As part of the legendary Best/Law/Charlton line-up, he won the European Cup with Manchester United at Wembley in 1968, only to suffer the ignominy of relegation from the old First Division six years later. Ghost writer David Saffer (a veteran of more than 20 books, the majority about Leeds United) fails to get his subject to discuss what he felt about those extremes, or anything in between. It's as if Stepney has merely been presented with a couple of sheets of stats about his career and been prompted to deliver some typically non-committal post-match soundbites.
Having said that, Stepney is at least slightly emotive when reminiscing about his south London childhood playing junior matches for Tooting & Mitcham, always dreaming of his twin footballing holy grails – playing for England and winning the FA Cup. The former was only fleetingly fulfilled, Stepney's sole senior cap coming in a 1968 friendly against Sweden a week before United beat Benfica in the European final. He made the squad for the 1970 World Cup in Mexico, but was third in the pecking order behind Gordon Banks and Peter Bonetti (who, in the eyes of many, was at least partly responsible for the knockout defeat at the hands of West Germany).
In these respects, especially with the emergence of Peter Shilton as Banks's main rival for the No 1 jersey, Stepney has historically been portrayed as the nearly man of the national team. There's not any real bitterness in these pages, though, more a wearily diplomatic mindset of "them's the breaks" that doesn't especially make for a page-turning read.

Friends and former team-mates add their own tributes in dedicated mini-chapters, although they amount to little more than "he's a great lad" (Nobby Stiles) or "extremely convivial company" (Martin Buchan), in the manner of old warhorses at a regimental dinner who've taken a vow to never talk about what really happened on the frontline. Stepney was eyewitness, and a central figure, to some potentially evocative stories, but neither he nor his journo interpreter seem able to tell them.