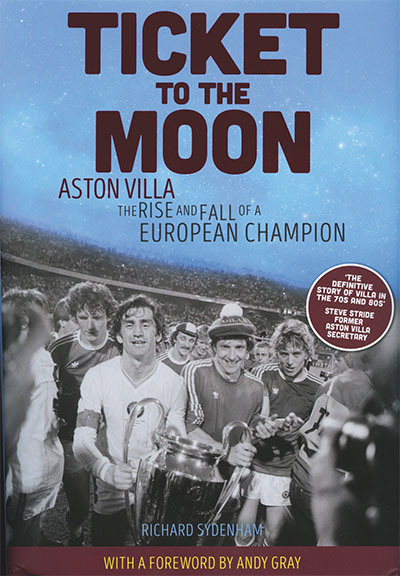 by Richard Sydenham
DeCoubertin, £18.99
Reviewed by Damon Green
From WSC 384, March 2019
Buy the book
Villa won the European Cup two days before the battle of Goose Green, and to put both events in their proper historical context, the Falklands War is now closer to the end of the Second World War than it is to the present day. If you can remember Rotterdam, pretty much everything is going make you feel old, from Jack Grealish on Instagram to putting on your socks in the morning. One thing that never grows old, however many years may pass in B6, is the memory of the team that Ron Saunders built; a team in his own image, quiet, purposeful and hard as nails. Richard Sydenham's account of how the pieces of the puzzle snapped into place, season by season, transfer by ruthless transfer, is an immensely satisfying experience.
This is a dense and chewy read, as full of information as a good pork pie is full of meat. No wide margins, no double-spaced lines of 48-point type. There is a ton of stuff here, from some wonderful sources: Brian Little, Sid Cowans and former club secretary Steve Stride, among others, are the kind of intelligent observers any historian would kill for. Clever, articulate, interesting men who didn't waste a minute of their time at Villa Park.
The characters they describe come to life, and particularly Saunders himself, with the traditional image of a tough, bruising, old-fashioned boss only part of the picture. Flexible and astute, able to manipulate the directors of his club to get what he needed. Ahead of his time, in his emphasis on physical conditioning and in his grasp of tactics – Little suggests that his use "in the hole" behind a front two was revolutionary – he was also surprisingly subtle in his psychology.
There are lovely cameos, too. Brian Clough offering Cowans £10,000 in cash out of his attic to sign for Forest (Sid said no). Allan Evans drawing Martin Keown gently aside to tell him that nobody liked him. John Gidman still with an axe to grind about the "snitch" who'd tell tales to the boss. Mike Pejic, injured and ostracised, with a hernia that went undiagnosed for eight years, breaking down by the side of the M6 and weeping his heart out.
But in any story about Aston Villa over the last 40 years, there has always been one character who seeks to dominate every narrative. He's gone now, but this book is full of Doug Ellis, a man who could turn any conversation about the Villa into a discussion of himself. And unfortunately the author lets him do it. While the run-in to Villa's best season in over a century is collapsed into a handful of pages, and the successful European Cup campaign is described almost in summary terms, we get a lengthy, painful, Ellis-centred account of how he got back on the board and dismantled a team he considered financially unsustainable.
Ultimately that's a difficult read, like opening a photo album from a favourite childhood holiday and finding your parents' divorce papers. And it's a shame. Ron Saunders may have bought Villa a ticket to the moon, but by the end the author isn't describing the journey; he's listening to a pompous, provincial passenger quibble about the fare.