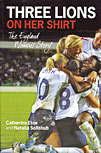 The England Women's Story
by Natalia Sollohub & Catherine Etoe
Tempus, £14.99
Reviewed by Pete Green
From WSC 252 February 2008
If women's football still lacks credibility in the minds of many fans and journalists (of both genders), its advocates can also tend to hinder the cause by suspending their critical faculties. "It was a difficult chance," pleaded a chivalrous Gavin Peacock during the 2007 World Cup, after England's Eni Aluko screwed horribly wide of an open goal against Japan. As former players, Natalia Sollohub and Catherine Etoe slip easily into a similar cheerleading role – but readers looking for a basic primer on the England team rather than rigorous punditry will find their book a breezily efficient ­introduction.
Each chapter offers a stand-alone biography of a key figure in the England set-up, suffixed with a present-tense commentary on a match in their epic run-up to China 2007. This gives an otherwise disconnected series of stories a compelling linear narrative, with a palpable sense of the team growing stronger and closer. But the stories are linked by some other common themes: unaware that girls' clubs existed, several of the team started off playing alongside boys – some even pretended to be boys – and, even once they are signed up, discovering the mere existence of the England women's side often fills the ­players with amazement.
Another recurring subject is finance. The FA are shown to have invested diligently, if belatedly, in the infrastructure of women's football and, though the drive for a full-time professional league has stalled, clubs can now at least fend off American colleges to keep the best English players (if Bend It Like Beckham had been made in 2007, Arsenal officials would rush to the airport waving contracts to stop the girls jetting off to the USA). It's unfortunate that the book arrived just too late for the row over the players' £40‑a-day allowance in China, Tesco sponsoring the Women's Premier League with "value in kind" rather than cash, and clubs such as Charlton closing down their entire women's set-up and sacking all the staff.
One suspects, though, that these issues might have run awkwardly against the authors' agenda, as their book is competently written and informative enough, but sometimes just a bit too nice. We are told of Kelly Smith's frustration at her frequent injury setbacks – but her exasperated outburst in 1999 that "women's football in England is a joke" is politely excluded. At the same time, the design feels dated and the black-and-white photography is poorly treated – dark, flat and lacklustre, as if colour shots have been xeroxed to mono. Flaws such as these are not easily overlooked when a publisher demands £14.99 for a paperback containing fewer than 200 pages.
While the tedious, bling-languid men who represent England wave their justly ignored autobiographies off to the pulping plant, champion books wait to be written about the likeable, rounded and grounded personalities of the women. For now, Three Lions on Her Shirt is a limited but worthy quarter-finalist.