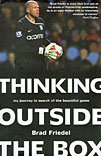 by Brad Friedel with Malcolm McClean
Orion, £18.99
Reviewed by David Wangerin
From WSC 268 June 2009
No colourful boots for Brad Friedel – no self-aggrandising tattoos, no trophy wife, and certainly no flamboyant hairstyles. But, almost inevitably these days, there is a book. Not that we should begrudge this Premier League stalwart a foray outside his penalty area; indeed, how a collegiate star from Ohio became one of England's most dependable goalkeepers and a hero of the 2002 World Cup would seem to be a story worth reading.
This being a footballer's autobiography, though, one's first instinct is to wince. Friedel is not one for hanging out his dirty laundry – even the disgraced Paul Stretford, once his agent, escapes without a disparaging word – but he does speak his mind here and there. The litany of his difficulties in acquiring a UK work permit is addressed in some detail (he is far from charitable towards the PFA) and Liverpool fans will doubtless be interested in his views on the state of their club on his arrival. More often, though, the 37-year-old seems content to trace a superficial path, expressing delight at victory or disappointment at defeat before moving on. He leaves plenty of room for euphemisms (Robbie Fowler is described as "not a disciplinarian's cup of tea") and for eulogies to those who have furthered his career. Praise is especially apparent for Milan Mandaric, the "lovely man" who brokered his move into English ­football, and Graeme Souness, who signed him at Galatasaray and later at Blackburn. A little less of this back-slapping – and a lot less recitation of painfully familiar events – would have made for a better read. (So, too, would an editor who knows the NASL was not the "National American Soccer League" and doesn't refer to its successor as "the MLS".)
The author comes across as likeable enough and utterly professional. But the overriding impression is of someone uncomfortable with dwelling on his achievements or celebrating them too loudly. Friedel mentions almost matter-of-factly being named US college player of the year in 1992 – no mean feat for a goalkeeper – and is similarly circumspect about his starring performance at the 2002 World Cup. Touches of genuine insight are few: we learn that he supported Liverpool as a boy, but are never told why (or how); we're given little idea of how difficult the jump from his college team to a European powerhouse might have been, or of the cultural discrepancies confronting a young American living in the north of England. Even the momentous transformation of the American national team during the 1990s – something to which Friedel bore particular witness – is apparently unworthy of exposition.
Where he is less reserved is in dispensing advice. This may be on account of his co-author, a motivational speaker who is apparently "passionate about passion". It comes as little surprise that Brad believes in always giving 110 per cent; in keeping feet "well and truly" planted on the ground; in setting and pursuing goals and maintaining a positive mental attitude. He's also quite an entrepreneur: the final pages give way to property deals and business interests – in particular, his multi-million dollar soccer academy in Ohio (developed with the help of Barry Venison, among others). The midwestern twang may be abraded by a Lancashire burr, but Friedel remains unequivocally American. Take that however you like.