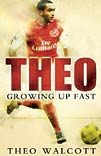 Growing Up Fast
by Theo Walcott
Bantam Press, £18.99
Reviewed by Cameron Carter
From WSC 297 November 2011
This is not a life of peaks and troughs. There are no regrets, no fatal flaws, no falls from grace – just a rapid rise to the top by a polite young man from Newbury. Theo Walcott's story is an incredible one, but only from one angle: his youth.
He was not too concerned with football until, aged nine, he witnessed Michael Owen's goal against Argentina in the 1998 World Cup. A year later he was asked to stand in for an absent child and scored a hat-trick for Steventon Boys. Another boys' side, AFC Newbury, recruited him on the strength of that game and he scored 100 goals in his first season. He entered Southampton's academy via Swindon, securing a sponsorship deal with Nike at the age of 14 and becoming Southampton's youngest ever player at 16. Only seven years after first kicking a ball in any kind of competitive football, he became his country's youngest ever player.
The index suggests this is not a rollercoaster ride: "Walcott family… and Star Trek plates" (little Theo broke them playing football indoors), "Theo Walcott… tidiness", "… knee injury", "… left shoulder problem", "… right shoulder injury". The main drama is in the battle to break into the first teams at Southampton, Arsenal and with England, and to stay there for a prolonged period. Walcott's experience as an unlikely call-up to Sven-Göran Eriksson's 2006 World Cup squad – he had not yet played in the Premier League – fills the first four chapters.
While everyone back home is questioning Eriksson's sanity, Walcott is padding about the team's mountain-top hotel in Baden Baden during the days before the tournament began. The other players "were asleep most of the time. When I ventured out of my room, I hardly saw anyone around. The hotel was like a ghost ship. I wandered around the empty corridors and looked in the games room but there was nobody there." The descriptions of his isolation and loneliness at this time are articulate and affecting.
Growing Up Fast has the whiff of a child's diary recorded while on a day-trip to the adult world, partly because Walcott is forever surrounded by admired older figures and partly owing to the non-essential detail he includes. After the 2006 World Cup squad is announced, Walcott describes playing Monopoly with his father, apprising us of which piece they played the game with. His recall of the games room in Baden Baden runs to the pinball machine having a Sopranos theme. He reliably informs us that he scored three out of five in shooting practice against David James. One can almost smell the felt-tip pen on lined paper.
At other times his exploits at the top level are followed by a bathetic reminder of his youth. After his hat-trick in Croatia he slips away from the press conference to call his mother, asking her to stay up late back in England because he had forgotten his front door key. But he is not completely naive. There is a hard core of ambition and self-belief that has helped him to thrive, without spoiling his unfledged charm when viewed among seasoned professionals. Also, anyone who describes the word "surreal" as "overused" when relating an unusual experience in their autobiography has clearly reached manhood without raising a sweat.
This is a story with a beginning, but no middle or end. Walcott is a proficient and diplomatic tour guide for his own life, but he is still only 21 by the end. You may want to hold out for the second edition of the memoirs for a more rounded experience.