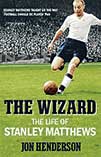 The life of Stanley Matthews
by Jon Henderson
Yellow Jersey, £18.99
Reviewed by Harry Pearson
From WSC 316 June 2013
Stanley Matthews is one of those figures who looms so large in the consciousness of the nation there's a tendency to think we already know all there is to know about him. The truth, which becomes apparent while reading Jon Henderson's vivid biography, is that what most of us actually know about a player whose career spanned 29 seasons is confined to the salient facts about a couple of famous matches and a whole heap of the sort of cliches (including the one about how he always crossed the ball so that the laces didn't hit the forward's head) that were the 1960s equivalent of YouTube.
As you might expect, the truth, as it emerges in this well-researched and cannily written book, is more complex and interesting than the well-worn phrases about body swerve, dropping a cross on a postage stamp and the 1953 FA Cup final might have led us to expect. Matthews himself was a difficult character to read, on good terms with his team-mates yet always distant from them. Like many men of his generation and background he was not given to talking about his feelings, or to public displays of emotion. Even the obvious affection of football fans across the world could not draw him out. "He never interacted with the crowd," Blackpool team-mate Jimmy Armfield recalls. "It just wasn't his way."
Matthews's dribbling was so phenomenal that after one particularly spectacular run and goal against Belgium, the opposition players spontaneously applauded him as he ran back to the halfway line. Yet, for all the brightness he brought to the game, he was a rigid, almost Spartan figure – a non-drinker and non-smoker who sat quietly in the corner while his Stoke City team-mates were swigging beer from a hotel chamber pot, during surreptitious late-night sessions, and took cold showers before matches to help him focus. Locked in an unhappy marriage, frustrated by a succession of club and international managers who regarded him as a temperamental "show off" and by the financial constraints imposed by a job that, despite his celebrity, never paid him more than £20 a week, he clearly felt the strain. One day, sitting in a first-class railway carriage with his Stoke colleagues, he watched a luggage porter going about his work and remarked wistfully: "There's something about normal life, isn't there?"
As Henderson clearly demonstrates, whatever Matthews's wishes – whether he was dazzling Hitler's henchmen with a breathtaking display in Berlin following the shameful "Nazi salute" business, arguing bitterly over a loyalty bonus at Stoke, being reprimanded by the War Office for selling coffee on the black market in Brussels or eloping with "the true love of my life" Mila Winterova, a Czech who it emerged had once been a spy – his was a life that was destined never to be normal.