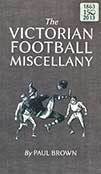 by Paul Brown
Goal-Post, £7.99
Reviewed by Terry Staunton
From WSC 318 August 2013
Pre-empting the terrace chants of several future generations, the 1878 FA Cup final referee was, indeed, a Bastard. Racehorse owner and solicitor Segar Bastard was the man with the whistle, although just a few years earlier he might have been waving a handkerchief to signal foul play, before a bright spark hit on the idea that something which made a noise might more easily attract players' attention.
It sounds like an obvious tweaking of how the game should be played, along with the 1871 ruling that introduced dedicated goalkeepers – instead of anyone on the pitch being allowed to take a "fair catch" – although it would be another 40 years before keepers' powers were reined in to prevent them from picking the ball up anywhere in their own half. Likewise, the Victorian equivalent of goal-line technology was the 1870s introduction of solid crossbars, thus ending the confusion and controversy caused by balls striking the strip of tape tied between the tops of posts.
Paul Brown's miscellany doesn't attempt a straight chronology of how the game developed while Queen Victoria was on the throne, and that is to the book's advantage. The time-hopping scattergun collection of pivotal changes to the laws governing play is liberally peppered with tremendously trivial tales of Zulu warriors playing exhibition matches in Scarborough, newspaper reports of therapeutic games played between inmates of lunatic asylums and revelations about the health-conscious 1889 Sunderland team containing seven non-smokers.
The author's visits to press archives come up trumps time and again, recounting St Patrick's Day riots at an 1840 match in Edinburgh ("a reinforcement of the police soon dispersed the cowardly assailants; four of the ringleaders, we are happy to say, are in custody") or Derby Council's decision to ban the game outright in 1846, declaring it "a vestige of a semi-barbarous age". And who wouldn't have wanted to witness the game played in Windsor, when both teams had their ankles tied 15 inches apart and the winners were presented with a cheese?
Among these myriad curios, Brown offers potted biographies of pioneering teams, players and personalities. Modern-day fans of Notts County may already be well versed in the club's history but it's intriguing for the rest of us to learn that antagonisms with their Forest neighbours stretch back to the very first derby fixture, when the latter team sneakily fielded 17 players. Rightful space is afforded to such movers and shakers as first FA secretary Ebenezer Cobb Morley, aristocratic Arthur Kinnaird (a 19th-century David Beckham, suggests Brown) and poet Nevill "Nuts" Cobbold, regarded as the forefather of dribbling.
The rules may have varied from town to town, even factory to factory, before the FA sought workable unification, while outbreaks of violence meant football habitually filled as many column inches of the crime reports as it did the sports pages, but the colourful transitions the game went through to become the beast we know today are endlessly fascinating. This book doesn't set out to tell the story in dense, sober detail, opting instead to present itself as a hugely entertaining exercise in eavesdropping.