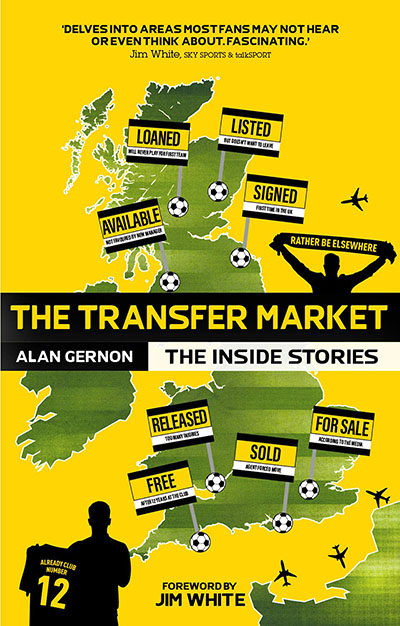 Pitch Publishing, £12.99
Reviewed by Paul Rees
From WSC 386, May 2019
Buy the book
There is an insightful, compelling and very human story to be extracted out of football's byzantine transfer dealings. Frustratingly, Alan Gernon has found his way to a few raw gems, but hasn't been able to organise or burnish them into a coherent narrative. That much is clear from his first chapter. Gernon leaps in outlining the 2017 experience of well-travelled Irish midfielder Richie Ryan. Just settled down at Miami FC in the North American Soccer League, Ryan was abruptly shipped out again to FC Cincinnati in the rival United Soccer League, without any say in the matter and almost before he had time to unpack.
This thread, concerning the vast majority of transfer dealings made outside of the limelight of Europe's major leagues, is a potentially rich one. Gernon picks at it throughout, highlighting how most professional footballers are like Ryan, which is to say journeymen, leading precarious, uncertain careers on short-term contracts and ever challenged with having to up and move their young families. Former Blackburn, Spurs and England winger David Bentley described it best as "being owned like a piece of meat". Disillusioned with the game, Bentley retired in 2014 aged just 30. Gernon goes on to mention the high rates of depression, divorce and alcoholism affecting footballers, but having raised these issues, doesn't go further than skimming their surfaces.
Following right on from Ryan's upheaval, he relates in passing how, in 2017, Manchester United's Belgian winger Adnan Januzaj had shelled out £3 million on a Cheshire mansion, only to have the club immediately sell him to Real Sociedad. The sudden, unexpected nature of their respective moves besides, Ryan and Januzaj might as well be playing on different planets. Gernon, though, doesn't stop to consider how football's ever-growing wealth gap has impacted on jobbing players. In fact, nowhere in the book does he offer context, historical perspective or real analysis. Rather, he flits about, butterfly minded, stitching together quotes from a mixed bag of players, agents and football writers and without properly developing the themes thrown up.
There are the kernels here of something more worthwhile. Gernon touches upon the role played at clubs by liaison officers and the more cosmopolitan the game has got. He eyes up FIFA's deregulation of football agents. Yet his conclusions, that many footballers struggle to adapt to new environments, and that there are good as well as bad agents, are hardly earth-shaking. It doesn't help that the book is set out in seven long, dense chapters and with no breaks in the text, which manages the feat of making it seem impenetrable as well as slight.
Even still, it's almost worth the effort to happen across Niall Quinn relating the story of an overseas recruit signed up by him when chairman at Sunderland. The hapless player rang the club one day flapping about his washing machine being broken. On further investigation, Quinn reveals, the young man had put his clothes in the dishwasher. Unfortunately, too much of The Transfer Market is similarly misplaced.