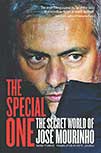 The secret world 
of José Mourinho
by Diego Torres (translated by Pete Jenson)
Harper Sport, £12.99
Reviewed by David Stubbs
From WSC 329 July 2014
José Mourinho is a strange, as well as a special, one. He seems quite consciously and gleefully to play up to the stereo-type of a conniving practitioner of cunning tricks and brazen gamesmanship – a living affirmation of the lower morals of the southern European sort, with decent Englishmen being advised to be on their guard and lock up their wives and daughters should he attempt to beguile them with his oily ways. He revels in obnoxiousness, in his fist-pumping touchline displays, his churlish barbs against officials and fellow colleagues. His "specialist in failure" sneer about Arsène Wenger was particularly lacking in grace. Yet, get past his poor etiquette and you have to admire the fine honing of that particular verbal dagger – the word "specialist" had a particular genius when applied to the professorial yet long-time trophyless Arsenal manager.
Behind this mischievous smokescreen of public hullabaloo, you suspect a genius is at work; a master of tactics, albeit that systematically squeeze the joy out of football as an attacking, free-flowing spectacle, as well as a certain psychological understanding of how to handle players, despite never having been one himself at the top level.
This, you would assume, is Mourinho's secret world and the secret to his success. There's very little of that, however, in Diego Torres's exposé of his time as manager at Real Madrid, the period covered exclusively by this book. The author's contempt for Mourinho bristles on every page – a Machiavellian operator more obsessed with his self-image than the club he happens to be managing at any particular time, at odds with his key players, with too close and unhealthy a relationship with the agent Jorge Mendes, over-promoting players in his fold, alienating those represented elsewhere, unsportsmanlike, disrespectful to his fellow professionals (including a sneaky poke in the eye of an opposite number during a Barcelona game) and ultimately a person with far too high an opinion of himself and his tactical skills.
The book begins with Mourinho in floods of tears when he learns that he's been passed over for the job of Manchester United manager in favour of David Moyes. Disastrous as that decision was for United, could it be that Ferguson cannily envisaged catastrophe of a similar sort had Mourinho and his ego landed at Old Trafford, with Mendes not far behind? Maybe he had some inkling of the behind-the-scenes goings-on related in Torres's account.
We read that Mourinho's tactic was to turn "the control of information into a fine art" – whether to the press, with players briefed heavily on what they were to say in interviews, or to the players themselves, exploiting their fear of being marginalised in the team. However, this only served to create dressing room divisions at Real Madrid, most importantly of all with his captain Iker Casillas. Moreover, his insistence on applying his customised "high pressure triangle" formation regardless of the players he had at his disposal, who he regarded as mere "assembly line" components, frequently backfired, as in a 5-0 thrashing against Barcelona in the 2010-11 season.
There's an element of literary licence at work; Torres recounts entire, paragraph-long dressing room tirades from the manager verbatim, filled with hysterical insults like "traitors" and "sons of bitches", clearly fed to him by players on the receiving end of them (there is no shortage of suspects) but which no one could possibly remember word for word. For all that, and the partiality of the author, this account rings and reads true.