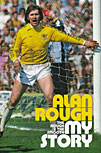 My Story
by Alan Rough with Neil Drysdale
Headline, £18.99
Reviewed by Archie MacGregor
From WSC 241 March 2007
The real disaster of Scotland's 1978 World Cup campaign was, of course, Alan Rough's haircut. If beforehand you had somehow missed all the other tell-tale signs that the Argentina adventure was steering a steady course towards an apocalyptic implosion of the preposterous and pure vaudeville slap-stick, then Roughie's perm ought to have been the final giveaway. While there could be grounds for speculating that its true impact on the South American continent only emerged some years later when Colombia's Carlos Valderrama began strutting his bouffant on the world stage, for most Scots it ranks alongside dear old Ally MacLeod clutching his head in his hands as one of the more shuddering flashbacks of that most ­surreal tournament.
In keeping with other twists of fortune he had to contend with, Rough mostly reflects on his bad-hair days and much else in Argentina with the sort of deadpan geniality that has been his trademark. Yet for such a laid-back character he appears to have possessed a poacher's instinct to be present at many of the seminal moments for the Scottish game over the course of his playing career. As well as the '78 debacle, there was Partick Thistle's incredible thrashing of Celtic in the 1971 League Cup final, a near miss on being involved in the infamous "Copenhagen Five" bar-room brawl, the grief of Jock Stein's passing away after the World Cup qualifier in Cardiff in 1985 and the incendiary events surrounding Graeme Souness's debut as Rangers' player-manager at Easter Road in 1986. So while this particular volume is never going to earn a place in the pantheon of the game's literary masterpieces, there are enough decent anecdotes from events that laced 53 international caps and over 800 senior appearances to keep the attention gently engaged.
That odyssey took in some fascinating intersections with the unquestionable greats of the managerial fraternity, such as Stein and Alex Ferguson. Then there was Bertie Auld. Fondly remembered by many as one of Celtic's Lisbon Lions, Bertie also attracted a cult following for his less revered feats in the dugout at Partick, Hibs and Dumbarton. Heretical is probably the mildest description that could be applied to his approach to man-management – flinging mince pies in the faces of his players at half-time being a cherished party piece, along with strutting about with his European Cup winner's medal permanently slung around his neck just to subtly remind them who was boss. Despite this, the nearest Rough gets to embitterment is reserved for Alex Miller – he of the glowering presence on the Liverpool bench nowadays – who ruthlessly shoved him out of the door at Hibs.
Off the field, a familiar litany of disastrous business ventures shadowed Rough's successes on it, with the takings from his testimonial swallowed up in one swift gulp by the debts he had run up on, you've guessed it, a pub. After an improbable spell in management, when he actually steered Ayrshire side Glenafton Athletic to victory in the 1993 Scottish Junior Cup final, he swapped the mac for the mic and is now a radio pundit. At least that spares us from having to worry about his latest hairdo.