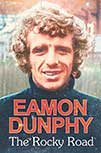 by Eamon Dunphy
Penguin Ireland, £20
Reviewed by Dave Hannigan
From WSC 324 February 2014
Near the end of this enthralling book, Eamon Dunphy devotes a chapter to George Best, somebody he first encountered when they were both apprentices at Manchester United. Over the course of two particular anecdotes, one involving an afternoon's drinking in London that segues into a tabloid sting of Best's own orchestration, the other a night where the fallen icon plays pool with a Down's syndrome boy in a pub on the northside of Dublin, Dunphy paints as revealing and as poignant a portrait of the late genius as you will find just about anywhere.
In recent years, Dunphy has become something of a caricature of himself on Irish TV, making outrageous, often ill-informed comments on European and international football. Watching this admittedly entertaining cabaret act, it's easy to forget he has often been one of the most perceptive and insightful writers on the sport, from Only A Game?, the first warts-and-all journeyman diary of a season, to A Strange Kind Of Glory, his fine book on Matt Busby's United. Thankfully, The Rocky Road (the first volume of his memoirs – it ends in 1990) is a worthy companion to both those works.
While there are sections dealing with Irish politics and the Dublin media that may baffle and/or bore British readers, they are dwarfed by the substance of the book which is actually a gripping account of one man's journey through football. From his arrival at an Old Trafford still recovering from Munich to his role as national pariah for legitimately criticising the primitive style of Jack Charlton's Ireland during Italia 90, this is a complex and often uncomfortable read.
It isn't every football autobiography that deals with child abuse (he was a victim), and rails eloquently against the Catholic church and former president Eamon de Valera, the institutions that defined Ireland for much of the 20th century. Between his childhood in poverty in Dublin in the 1940s and 1950s to becoming one of the highest-paid personalities in Irish media, Dunphy lived many lives and they are all available here in fabulous detail.
The naive apprentice gambling away money he didn't have with Barry Fry and witnessing the arrival from Belfast of a teenage prodigy who would change the game. The journeyman pro growing embittered and disillusioned with the harsh reality of professional football at York, Millwall and Reading. A brief and disastrous spell trying to transform the League of Ireland alongside Johnny Giles in the mid-1970s. Through each incarnation, Dunphy is tough on a lot of people he met (Terry Venables, Bert Millichip and a cast of FAI blazers receive entertaining sideswipes), but true to his personality he is always hardest on himself and his own inadequacies.
One of the things that makes this such an enjoyable read is Dunphy's self-deprecating tone when recalling his own limitations as a footballer. Whatever they were, very few writers have offered us such a revealing glimpse into the brutal reality of an unforgiving sport in the 1960s and 1970s.