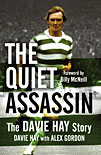 by Davie Hay
Black & White, £17.99
Reviewed by Graham McColl
From WSC 276 February 2010
One of the "Lisbon Lion cubs" groomed to replace Celtic's European Cup winners, Davie Hay's three departures from Celtic Park were almost as significant as his achievements there. Eased out to Chelsea in 1974 after going on strike, in 1987 he became the first Celtic manager to be sacked and was sacked again, when assistant general manager, during the club's turbulent 1990s rebirth.
An interesting individual, then, but despite his presence during key eras for Celtic, it is the minor revelations from Davie that stick in the mind, such as him relating how, as a young player in bed at nine on a Friday night, Catherine, his new wife, would keep him awake with descriptions of the drunks falling out of the pub opposite their flat. Or how, during the 1986 Scottish League Cup final, in which a stream of "controversial" decisions by referee David Syme presented Graeme Souness with his first trophy as Rangers manager, Hay, holding the ball on the touchline, briefly contemplated volleying it straight at Syme. Just as YouTube immortality beckoned, he thought better of it.
When Celtic's directors move to surreptitiously replace him as manager with Billy McNeill, Davie is, in the tradition of all the great coups, living it up out of the country; he was in London for Phantom of the Opera, before he went on to "a nightclub called Silks and mixed with the likes of Joan Collins and co". Wonderful stuff; a high-living African dictator couldn't have done better.
As in many footballers' biographies, there is a tendency to play fast and loose with the general context. "I made history when I became the first player to go on strike at Celtic… no problems with players for 85 years since the club had been formed in 1888 and suddenly two players are walking out within a fortnight. You couldn't make it up." Yes, you could – several Celtic players had preceded him in taking strike action.
Dull lists of match results muddy the story and there are too many loose ends: prime examples being the frustratingly little detail on how Davie won promotion to the Premier Division with Motherwell in his first year as a manager or on how he guided Lillestrom to the Norwegian title. Accounts of life at such institutions could have been as revealing as his engagingly well-recounted tales of Celtic and Scotland. Particularly bizarrely, he describes becoming a FIFA licensed agent and immediately brokering Iain Ferguson's move from St Mirren to Rangers – a major 1980s transfer – only to mention nothing further about being an agent. Maybe Davie has gone undercover.
Such flaws are especially irritating in that Hay is a fine raconteur with a dry, laconic wit. On Scotland qualifying for the 1974 World Cup in West Germany, he says: "We had six more games to play before we would kick off in Dortmund on 14 June. Still plenty of time for us to make a mess of our preparations." Few major revelations here for those drunk on Celtic history but, still, an entertaining yarn from a man whose obduracy took his career in intriguing directions.