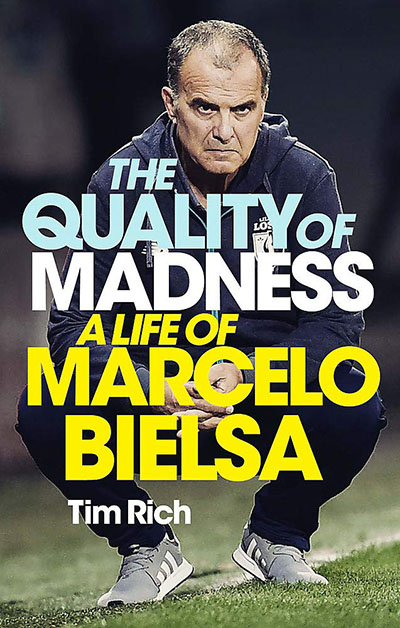 Quercus, £20
Reviewed by Huw Richards
From WSC 401, September 2020
Buy the book
Not everybody gets the biography they deserve, but Marcelo Bielsa has. And while doubtless aimed at Leeds United's fanbase, there's plenty in Tim Rich's accomplished chronicle for a much wider public. Any Leeds fan who, perhaps understandably, turns straight to the final 80 pages will miss most of what explains how their idolised, idiosyncratic leader got that way.
Rich draws on well-chosen sources across three languages for a vivid, compelling narrative flowing easily from a fine opening. This places Bielsa firmly in the context of his native Rosario and a remarkable family. Grandfather Rafael Bielsa was a brilliant lawyer with an honourable record in difficult times. Marcelo's younger brother, also Rafael, is another politically minded lawyer who survived the unpleasantly personal attentions of local military commander Leopoldo Galtieri to become Argentina's foreign minister. It is as if, in British terms, one of the Benn or Hogg dynasties had gone into football.
Such privilege offers many life options but, as Rich says, Bielsa has "many interests, but only one passion – football". He might have excelled in other fields. One telling anecdote has him delivering an acute shot-by-shot critique of a film director friend's oeuvre.
This echoes Wall Street panjandrums reckoning Jürgen Klopp could run a Fortune 500 company, with further hints of Klopp in fearsome competitiveness and belief in high-tempo football, although rather less empathy. Bielsa prefers to play golf alone and can pass a car journey with his team captain without exchanging words or eye contact.
There's something of the wandering Hungarian Bela Guttmann in Bielsa's intercontinental range and inability to stay long, although accounts of life at clubs like Vélez Sarsfield and Marseille explain why he is a rare manager who might regard Leeds as a haven of peace.
But he is essentially sui generis, a relentless intellect combined with demonic energy and inner drive enabling achievements like the massive, intensive talent hunts which countervailed the limited resources of his first, hometown, club Newell's Old Boys and Atlas in Mexico. The tactical brain is fed by a colossal, ever-expanding film library. No football undercover mission was ever less necessary than spying on Derby last year, but for his compulsion to know even more.
The trophies are limited – Newell's Old Boys' two joyously recalled titles, another with Vélez and Argentina's pitch-perfect gold at the 2004 Olympics. But his monument is tactical, in Argentinian terms a "middle way" between the brutalism of Carlos Bilardo and César Luis Menotti's risk-taking fluidity, at a higher tempo than either with rapid transitions enabled by playing midfielders such as the Chilean Gary Medel in defence.
He has inspired disciples such as Mauricio Pochettino, just one of many former players whom Rich cites as talking "of how he has made them see football differently". Very much a football life – his wife of 30 years and daughters appear just once in that rare and welcome thing, the index – this scores high whether tested for rigour, quality or readability.
This article first appeared in WSC 401, September 2020. Subscribers get free access to the complete WSC digital archive – you can find out more here